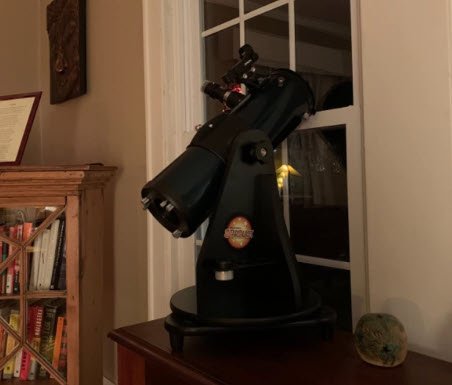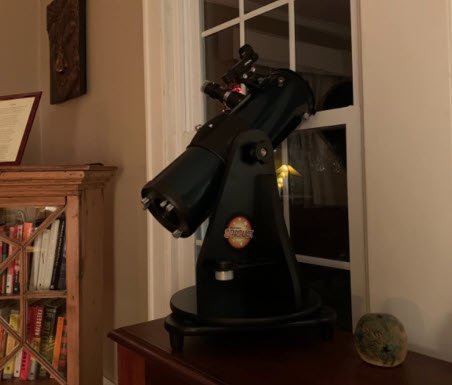 I hope you agree with me when I say:
 Astronomy compels the soul to look upwards and leads us from one world to another 
The world of astronomy is one of the many limitless subjects that are known to man. The more we explore, the more we know how much more there is to see and find.
However, with advancements in science and technology, any astronomy enthusiast, whether he may be a beginner or an expert can now visualize the celestial bodies from the comfort of their own homes. This has become possible because of the many professional-grade telescopes that are now available to be purchased.
In this article, we are going to list some such products that have created a name for themselves in the world of telescopes and hence astronomy so you can see for yourself which one might be perfectly suited for you, along with a buying guide to help you make the right choice. So, without any further ado, let's find you some of the best Dobsonian telescopes on the market.
Things to consider before buying:
The size of the telescope: The average size of a Dobsonian telescope has grown over the years as a result of its success and more recent advances in telescope construction. The standard size makes sure that the light reaches the telescope and reflects off the lens, moving to the secondary lens before passing through the aperture. It makes it easier to look at the image.
Compatibility: The compact Dobsonian telescope mount is a simple mount that can be changed easily back and forth and left to right. These mounts are made from wood or metal and are easy to use for simpler transportation. You will not need the assistance of a second person to assist with configuration and disassembly.
Best Dobsonian Telescope 2022
Here are our top picks for the finest Dobsonian telescopes:
Why we love it?
A compact telescope ready to be used on the go.
Simple setup perfect for beginners and amateurs.
Very high-quality optics to enhance your astronomical interest.
Optics that allow you to view the sky and the stars in detail. 
Heavy-duty telescopes are comparable with the more expensive models in their performance.
| | |
| --- | --- |
| Pros | Cons |
| ✅ Lithium battery required that's included in the package. | ❌ No zoom option available. |
| ✅ 4.5" aperture and fast f/4 focal ratio. | ❌ 6mm eyepiece does not show planets clearly. |
| ✅ Ships pre-assembled | |
| ✅ Stable table top provides solid foundation | |
Premium Beginner Level Telescope
This highly rated Orion Starblast Astro Reflector telescope is the finest option when it comes to Dobsonian telescopes under 500. With its two Explorer II 1.25 inch Kellner telescope eyepieces of 17mm and 6mm, this is the best Dobsonian telescope for beginners available in the US, UK, and elsewhere.
This telescope allows you to view the moon and the surrounding stars in great detail, especially if you're just starting out your journey into the world of astronomy. While there is no zooming option, this Dobsonian reflector telescope helps you venture into the world of astronomy without much hassle.
This Starblast Astro Reflector telescope comes pre-assembled so you do not have to worry too much about the setup. Additionally, this Orion telescope comes with a stable base with smooth altazimuth motion for greater ease and efficiency. Since this is a beginner-level telescope.
High-Level Performance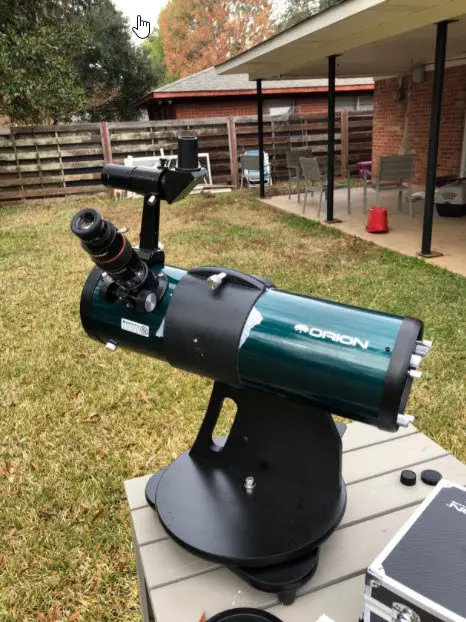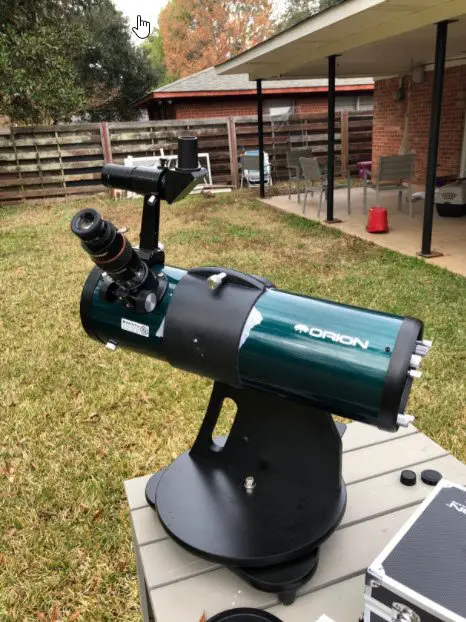 Although the Orion Starblast Astro Reflector is the most amazing telescope for amateurs, it comes with accessories that you can use to view the moon in amazing detail. In addition to that, this telescope comes with wide-field f/4 reflective optics which help you view the surrounding planets and the stars as well. It is widely preferred because of its compact design that makes it more attractive than the other larger Dobsonian telescopes.
Not only that, this compact telescope has 4.5 inches (114mm) aperture which is extremely important when viewing distant astronomical objects such as the clusters of stars and cloudy nebulae that cannot be seen with the naked eye.
Price and Specifications Comparison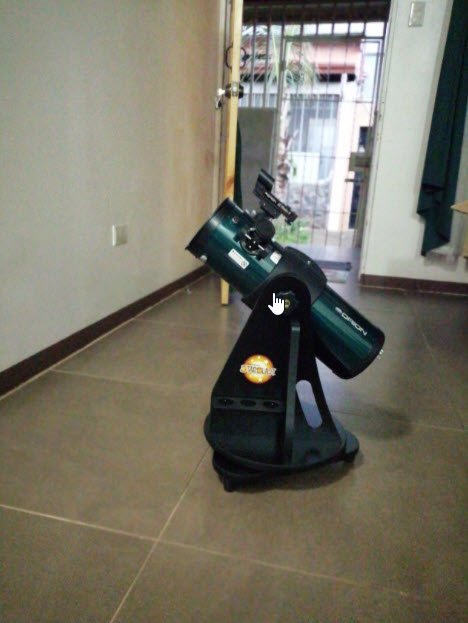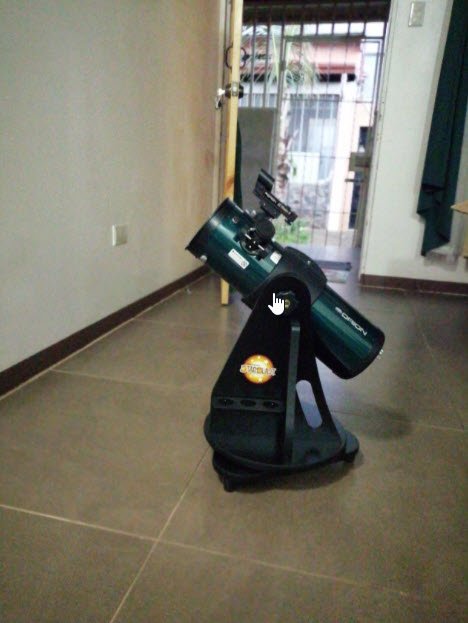 The Orion Starblast is a great telescope for the money. When compared with other similar options, the Astro Reflector comes at the top for the price versus performance ratio. Although this is a Dobsonian telescope for beginners, it offers the quality of viewing that comes with professional-grade equipment so you can view the galaxies and stars straight from your backyard.
When compared with Celestron AstroMaster Newtonian Telescope or the Orion SpaceProbe Reflector Telescope which are telescopes for beginners, the Orion Starblast is the cheapest Dobsonian telescope that is available for sale, with high-level specifications that will allow you to view the sky in great detail.
You can get Orion 10015 StarBlast 4.5 Astro Reflector Telescope on Amazon.com
Why we love it?
6 inch telescope for amazing views 
The stable base provides viewing free of disturbance
Simple navigation and no need for polar aligning
Classic entry-level telescope to provide crisp images of the celestial objects
Jumbo-sized optics with uncomplicated design
| | |
| --- | --- |
| Pros | Cons |
| ✅Altazimuth mount allows for vibration-free visuals | ❌ A bit heavy |
| ✅ f/8 parabolic mirror | ❌ Expensive compared to other 6 inch Dobsonian telescopes |
| ✅ Easy and simple setup | |
| ✅ larger Dobsonian telescope for improved viewing | |
Additional Aspects For Improved Visual Experience 
The Orion Skyquest Classic Dobsonian Telescope comes with a big 6-inch aperture that allows you to view faraway planetary bodies in great detail especially if you have recently discovered your interest in astronomy. After the basic level 60mm telescope, the next step is this 6-inch telescope with 150 to 200mm aperture modes. When looking at telescopes for sale, there are many things you should keep in mind, the most important of which is the level of your expertise as telescopes that require professional-level handling and setup might be too advanced to be used by an amateur. However, if you have already used scope, the Orion Skyquest might be your next best step into exploring the world of astronomy.
With an expertly figured parabolic mirror housed in an enameled steel optical tube and easy point-and-view navigation, the Skyquest Classic is the ultimate accessory to elevate your stargazing experience.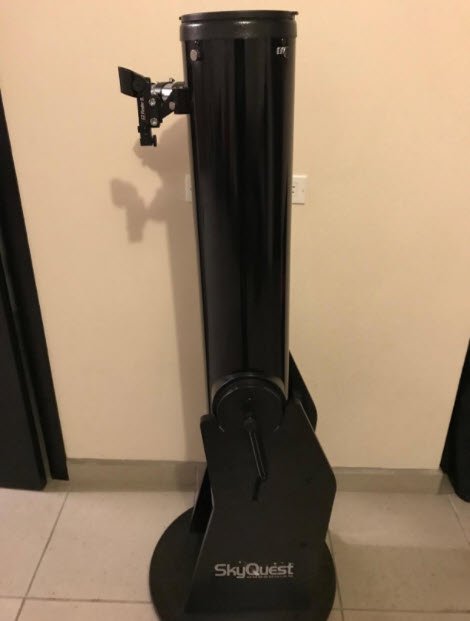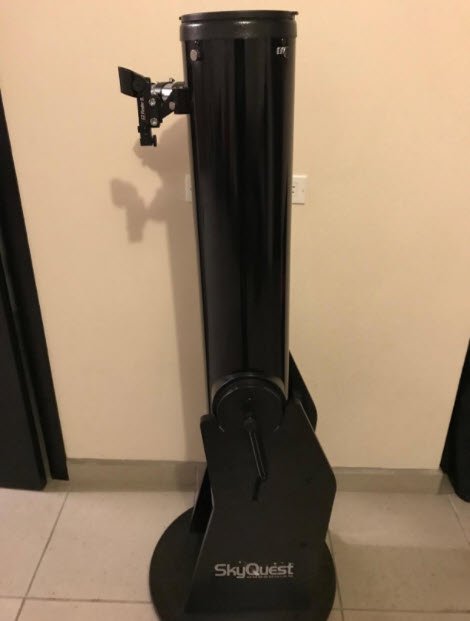 Stable Tool With Easy Usage
The Orion Skyquest comes with an Altazimuth telescope mount that provides you with a stable, vibration-free viewing wherever you set it up. Not only that, this large Dobsonian telescope has extremely simple navigation without the need for polar alignment.  Orion is the best telescope brand, providing telescopes that cater to all kinds of individuals in the field of astronomy. Whether you are a beginner or have progressed to the next step, Orion has you covered. After the first level of astronomical viewing, the Skyquest will aid you immensely in the next one. With the 6-inch diameter f/8 parabolic, you can view the Moon and other planetary bodies like never before
This Dobsonian reflector telescope also has enough light grasp for deep-sky viewing of nebulas, galaxies, and star clusters.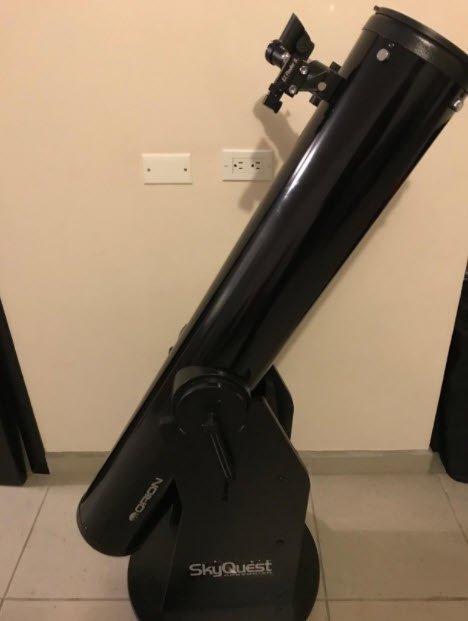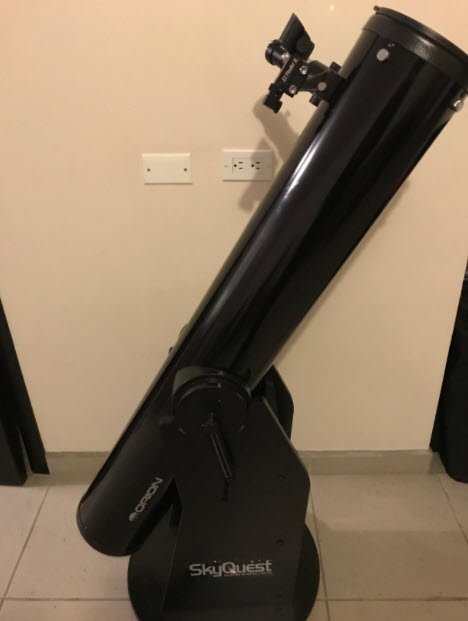 Comparison
The Orion 8944 SkyQuest XT6 Classic Dobsonian Telescope is a slightly pricier option as compared to its alternatives. This is because of the greater viewing options, improved quality of images, and greater stability that is offered by this telescope, according to the reviews. With the expanded aperture modes of 150mm-200mm, as compared to 100-150mm of Celestron Astro Master Newtonian Telescope and Orion StarBlast Astro Reflector Telescope, this might be your best option if you are looking for a Dobsonian telescope in under 500. Not only that, and the iron Skyquest offers a minimum magnification of 21.00x as compared to the 19x and 16x offered by the cheaper for sale.
You can get Orion 8944 SkyQuest XT6 Telescope on Amazon.com
Why we love it?
Portable with solid Altazimuth base for increased stability
Industry-standard 1.25-inch focuser that can be used with many different accessories
25mm and 10mm eyepieces for additional magnification options 
Sharper and improved views with a parabolic mirror 
Better performance than other tabletop telescopes
| | |
| --- | --- |
| Pros | Cons |
| ✅ Durable & Sturdy | ❌ Pricier than the alternative |
| ✅ More than 90 % light transmission | ❌ Lightweight so may get damaged |
| ✅ Travel friendly and lightweight | |
| ✅ Smooth tracking of objects across the sky | |
Features To Suit Your Viewing
The industry-standard 1.25-inch focuser is compatible with many different accessories along with the easier change of magnifications with 25mm and 10mm eyepieces that are included in the package.
Not only that, the easy-to-use red dot finder makes aiming the Z130 the finest telescope for beginners. When compared with any quality 12-inch telescope or any premium 18-inch telescope, the Zhumell telescope performs incredibly well due to its red dot finder. All you need to do is center your target in the Red Dot Finderscope, then make small adjustments to smoothly track objects as they drift across the sky providing you with one-of-a-kind experiences in astronomy.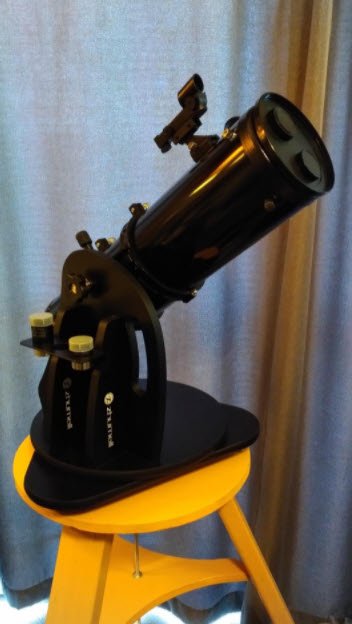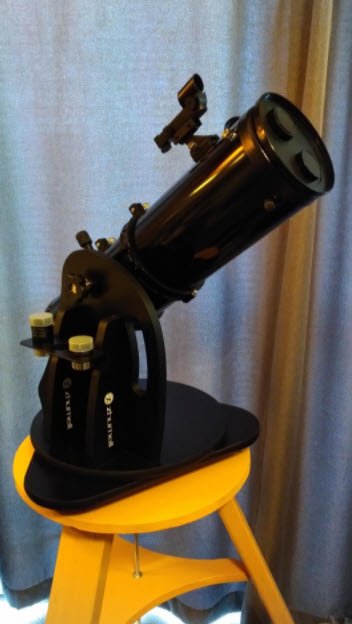 Improved Accessibility
When it comes to compact telescopes, one usually has to compromise on the quality of visuals they provide. However, with the Zhumell Z130 portable telescope, the specifications are good enough so you can have an amazing experience in the world of astronomy. This telescope comes with a 5-inch aperture and a 650mm focal length, the Zhumell should be among your top picks if you are looking to buy a telescope.
The Zhumell Reflector telescope uses a single Lithium-ion battery that comes with the package so your stargazing is uninterrupted. This telescope also provides the best Dobsonian telescope images if you were to take any.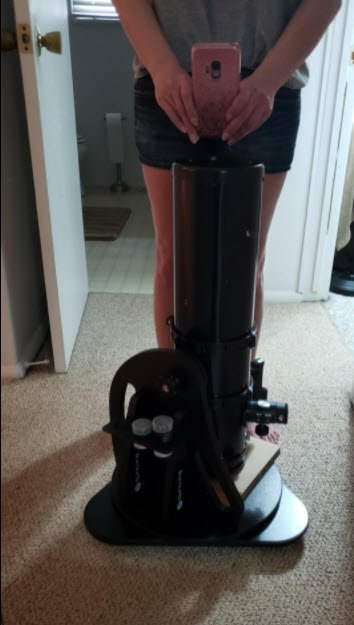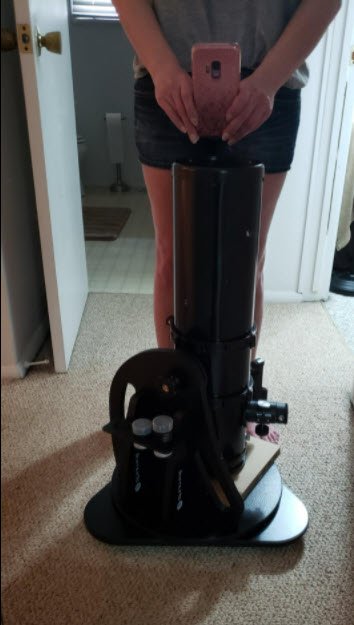 Comparison
While the Zhumell telescope is an option that is slightly pricier than the others such as Celestron AstroMaster Newtonian Telescope and Celestron PowerSeeker Telescope but the Zhumell Z130 telescope is a portable tabletop version and hence lightweight and travel friendly. However, the Orion SpaceProbe Equatorial Reflector Telescope is more expensive as well as heavier than the Zhumell telescope.
You can get Zhumell Z130 Portable Altazimuth Reflector Telescope on Amazon.com
Why we love it?
Large 8-inch aperture for a bright and bold viewing experience
Tension control handles for precise movements
Sturdy and lightweight design 
The maximum focal length of 1200
Fully multi-coated pyrex mirrors
| | |
| --- | --- |
| Pros | Cons |
| ✅ Comes with all necessary accessories | ❌ Bulky and heavy to use |
| ✅ Smooth movement with Teflon | ❌ Only available in white |
| ✅ Heavy-duty and durable | |
| ✅ Allows viewing of planetary bodies in great detail | |
Better Viewing Ability
The Sky-Watcher Classic Dobsonian Telescope comes with an 8-inch aperture that allows you to get a well-defined image of the planetary bodies that you want to view. In addition to that, you can do some Dobsonian astrophotography with the help of this telescope as the pictures are very high definition.
This large telescope for sale allows you to view the moon and surrounding planets in great detail, and when it comes to the best 8 inch Dobsonian telescope, the Sky-Watcher is more or less unparalleled.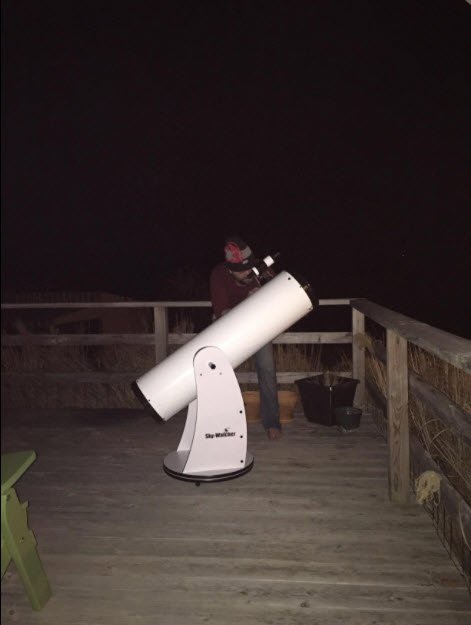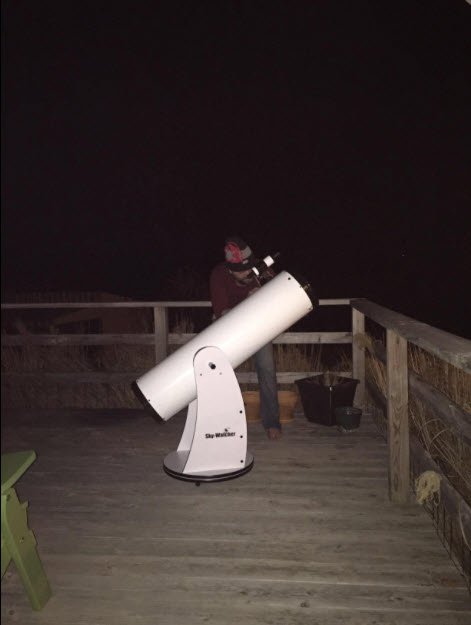 Teflon Bearings And Reflective Mirrors
The Sky-Watcher Classic comes with Teflon bearings that allow easy and smooth azimuth movement when you are manipulating the telescope to view the celestial bodies. When looking for a telescope under 1000, the Sky-Watcher is the finest Dobsonian telescope with an 8-inch aperture. This telescope also comes with 94% reflective mirrors, along with borosilicate primary and secondary mirrors, fully coated with quartz, titanium, and silicon dioxide that deliver exceptional views.
The patented Tension Control Handles with easy tension adjustment enable the telescope to move freely around the sky. These handles also provide stability when using large eyepieces and the steel ball bearings allow for smooth movement even when the handle is tightened.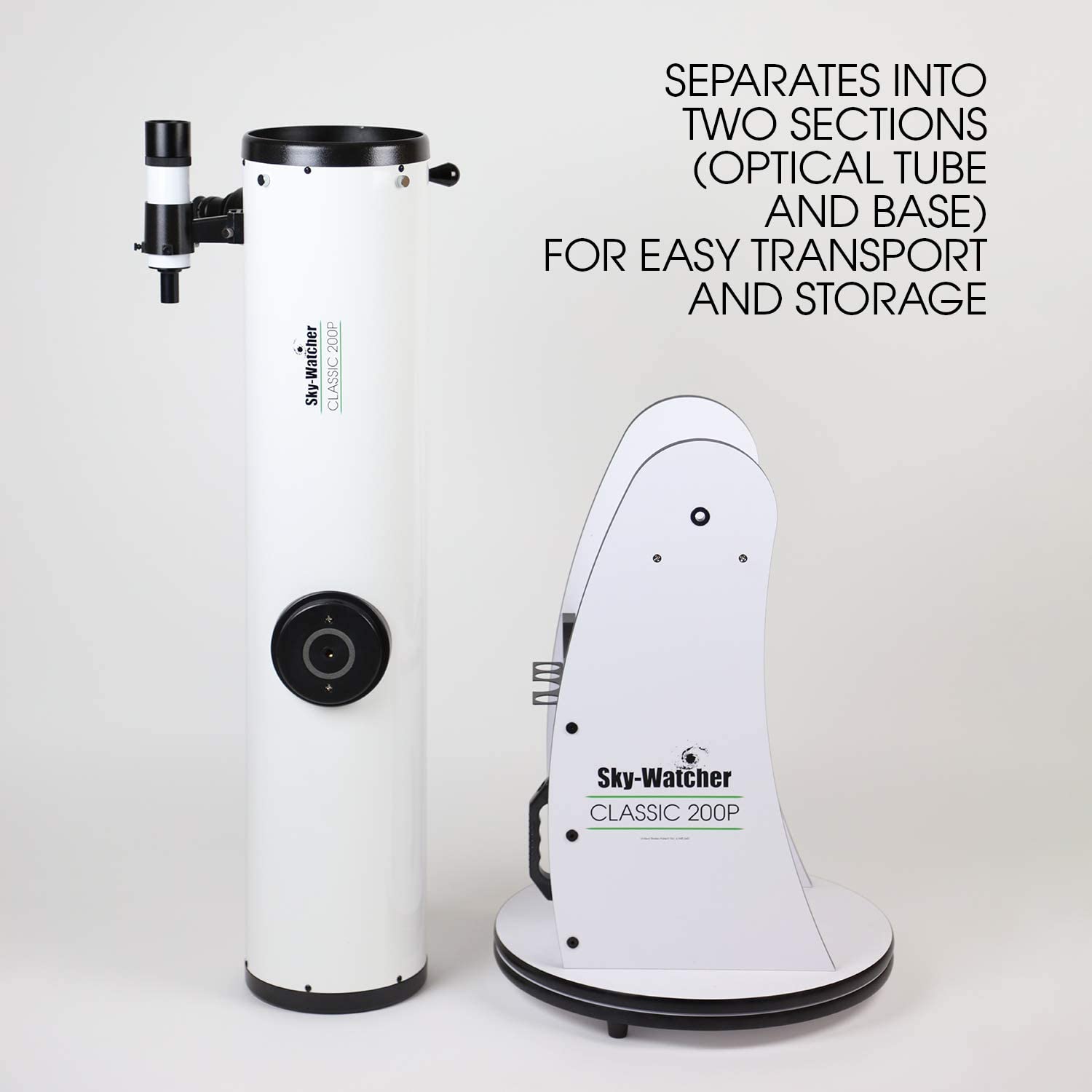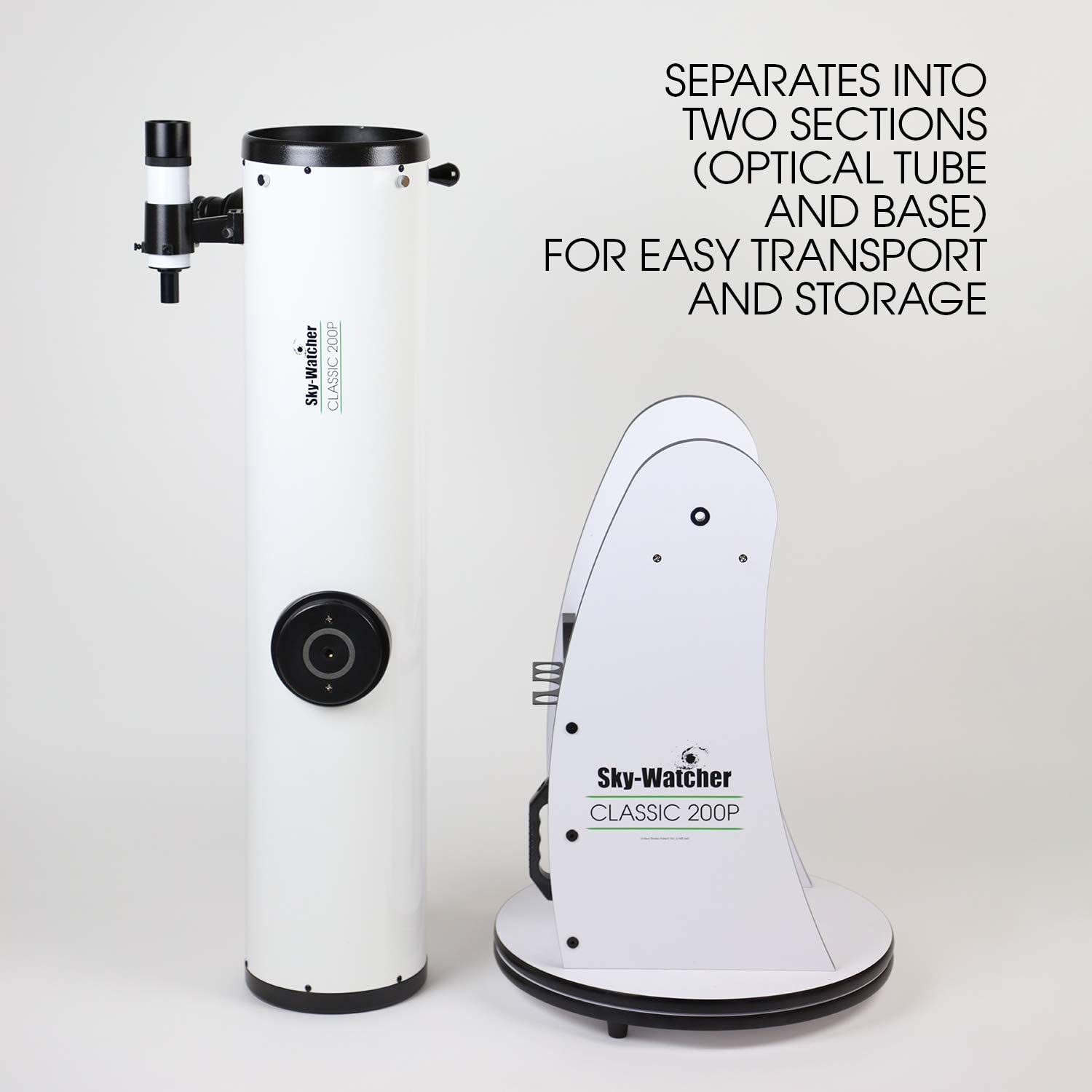 Comparisons 
When we compare the Sky-Watcher vs Orion, the Orion telescopes are the cheaper alternatives that allow for a beginner-level viewing of the moon, the planets, and other celestial bodies. The apertures are smaller in those and are also lightweight and easy to assemble and use whereas the Sky-Watcher telescopes allow for a more in-depth analysis of the planetary bodies and are also the perfect option to capture the Dobsonian telescope images.
You can get Sky-Watcher Dobsonian 8-inch Aperture Telescope on Amazon.com
Why we love it?
Plossl eyepiece lens that provides a high-quality viewing experience
IntelliScope computerized object locator allows you to easily find space objects
The compact design gives the Orion StarBlast a great grab-and-go portability
750mm focal length optics provide contrast-rich views
Clever tabletop for easier accessibility 
| | |
| --- | --- |
| Pros | Cons |
| ✅ Intelligent, user-friendly design | ❌ A bit heavy |
| ✅ Aluminum and silicon dioxide lens coating | ❌ Deep space objects are difficult to find |
| ✅ 750mm focal length optics | |
| ✅ Revealing 6-inch aperture optics | |
Push-to IntelliScope 
The Orion StarBlast Reflector telescope comes with a push-to IntelliScope that allows you to view planetary objects in great detail. It also comes with a clever tabletop which along with the computerized object locator helps you improve your viewing experience. This telescope comes with an age range of 13 years.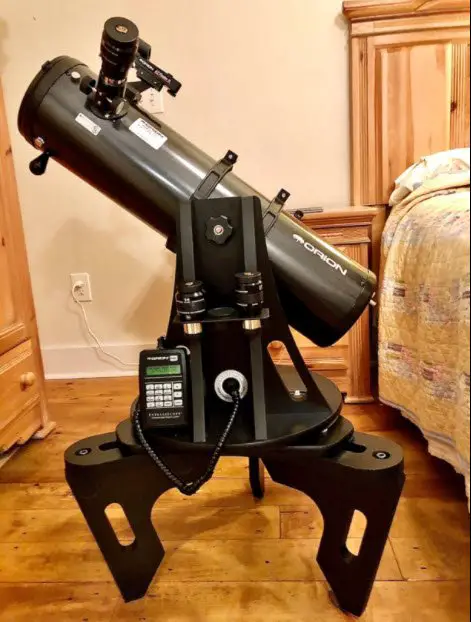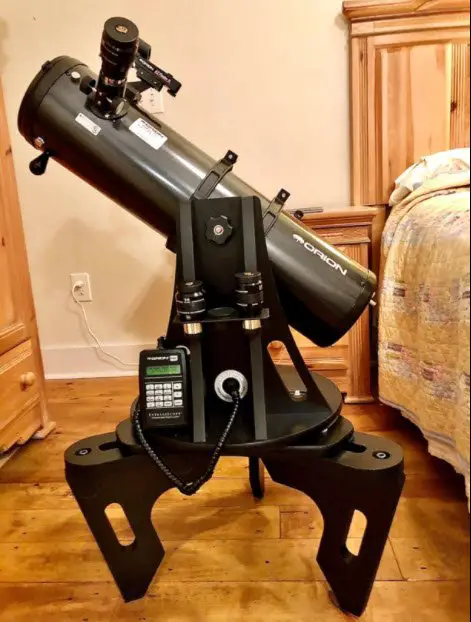 Amazing Visual Experience
This Orion Dobsonian reflector Starblast telescope has 750mm focal length (f/5.0) optics which provide a contrast-rich view of brighter deep sky objects such as nebulae, galaxies, and sparkling star clusters. Additionally, the substantial 6-inch aperture reveals sharp views of the Moon and bright planets like Mars, Jupiter, and Saturn so you can take great Dobsonian telescope images.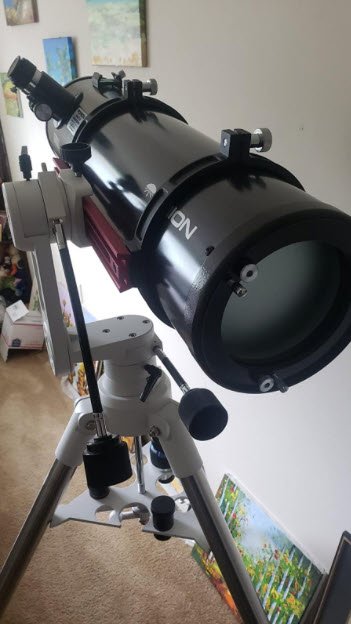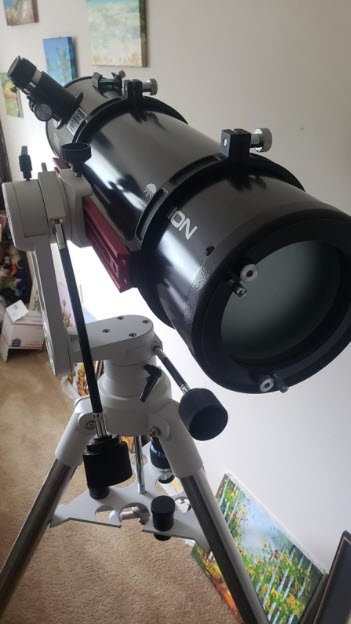 You can get Orion StarBlast IntelliScope Reflector Telescope on Amazon.com
Why we love it?
High-quality 130mm optics with resolution (Rayleigh) of 1.07 arc seconds for better visuals
Fully-coated glass optics with a sturdy and lightweight frame
No tools required for assembly
Equatorial Mount features 2 slow-motion control knobs that can help in capturing true sky marvels
Pre-assembled tripod with 1.25-inch steel tube legs, so no need to go through installation manuals
| | |
| --- | --- |
| Pros | Cons |
| ✅ Comes with a red dot finderscope | ❌ Not too great for astrophotography |
| ✅ Includes 2 eyepieces (20mm and 10mm) | ❌ Not for Professional use |
| ✅ Powerful reflector telescope | |
| ✅ Comes with a 2-year warranty | |
Newtonian Telescope for Beginners
The Celestron AstroMaster Newtonian telescope is an amazing option to get your kids introduced to the vast world of astronomy. Not only kids but this telescope can also be used by adults with entry-level knowledge of astronomy to get a better grasp on the subject. This Newtonian telescope comes with a rugged, pre-assembled tripod with 1.25-inch steel tube legs, that provide a stable platform for secure usage, so you can learn how to use a Dobsonian telescope.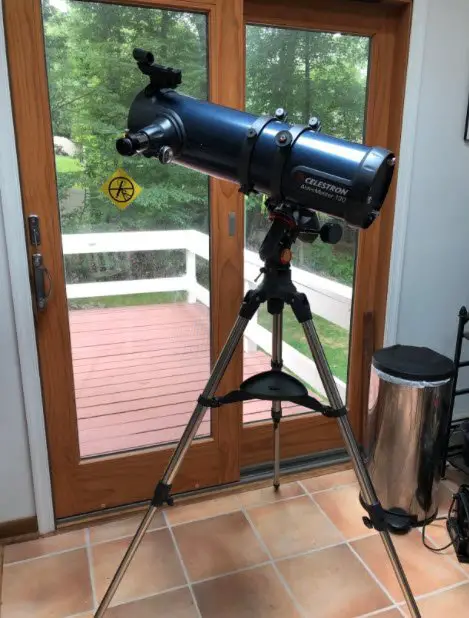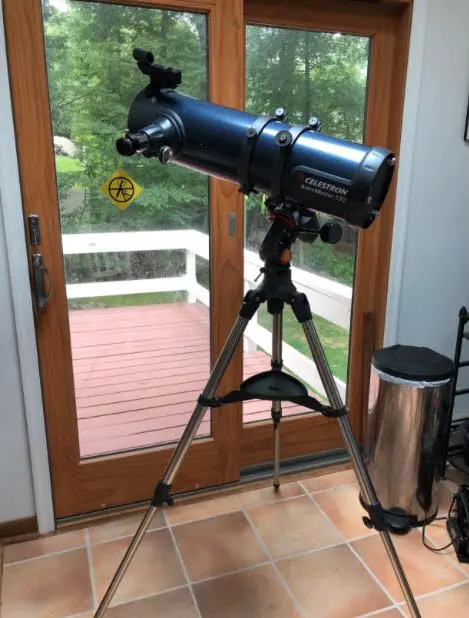 Multifunctional Optics
The Celestron telescope is a professionally designed dual-purpose telescope that comes with a fully-coated 130mm glass optic Dobsonian telescope objective lens. The package includes two eyepieces, a 20mm eyepiece that has a 45x magnification, and a 10mm eyepiece that can zoom up to 90x.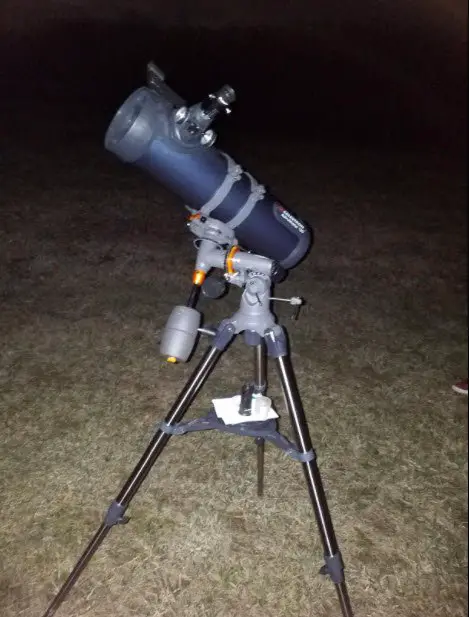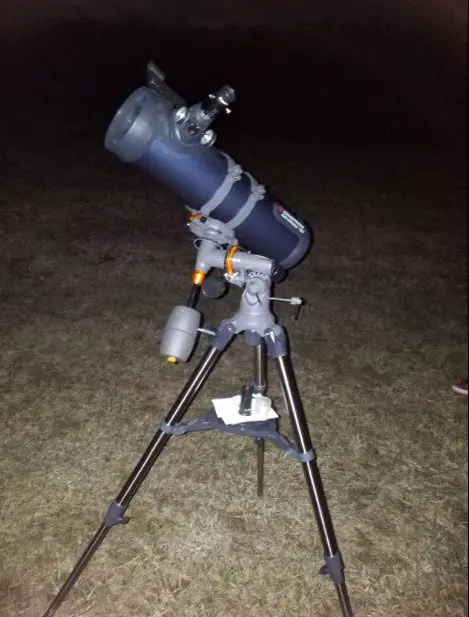 If you're one of those people who love watching the solar eclipse, our guide on the finest telescopes for solar eclipse will definitely come in handy.
You can get Celestron AstroMaster Newtonian Reflector Telescope on Amazon.com
Why we love it?
Built-in wi-fi so you can control your telescope with a smartphone
Full metal gearing for increased precision while viewing 
Sleek design with the latest technology to increase your viewing pleasure 
Comes complete with all accessories and two eye-pieces 
Strut system with three 1inch steel poles for sturdiness
| | |
| --- | --- |
| Pros | Cons |
| ✅ Unique collapsible design for better portability | ❌ A bit expensive |
| ✅ Large aperture for bright and clear images | ❌ Big and bulky |
| ✅ 94% multicoated reflective mirrors | |
| ✅ SynScan hand controller with 42,000+ object database | |
Innovative Viewing With new Design
The SkyWatcher Dobsonian telescope comes with a collapsible design for the optical tube and the added convenience of a GoTo mount. While telescopes are known for producing large apertures at a low cost by sacrificing the size and portability, the SkyWatcher comes with a collapsible optical tube, featuring a strut system with three 1" steel poles and chrome locking screws.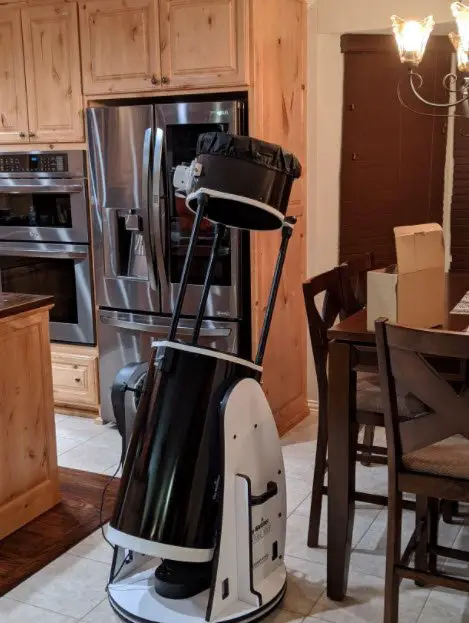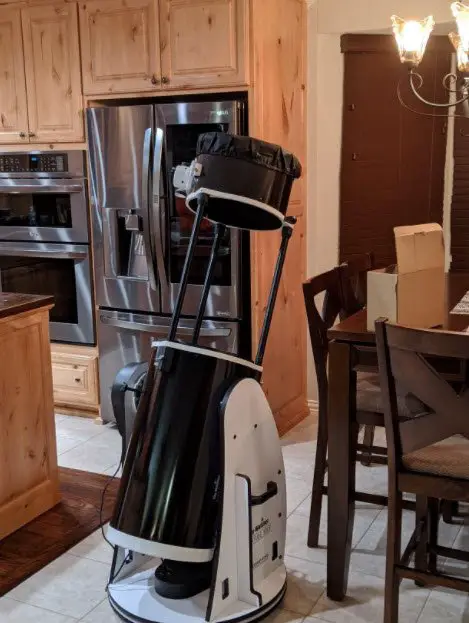 Professional-Grade Optics 
Sky-Watcher's GoTo Dobsonian combines the exclusive collapsible optical tube design with the convenience of a computerized GoTo mount. This GoTo uses borosilicate mirrors coated in quartz, titanium, and silicon dioxide providing 94% reflectivity, vivid contrast, and minimal vignetting to deliver an exceptional viewing experience.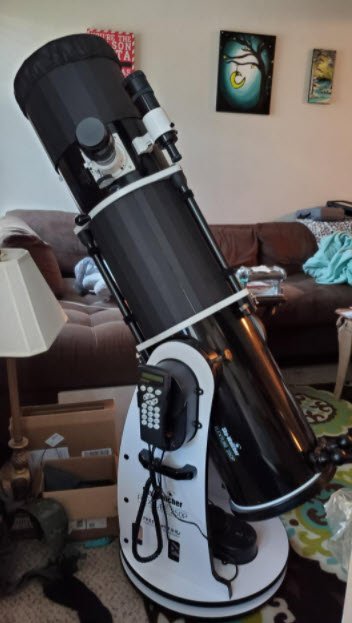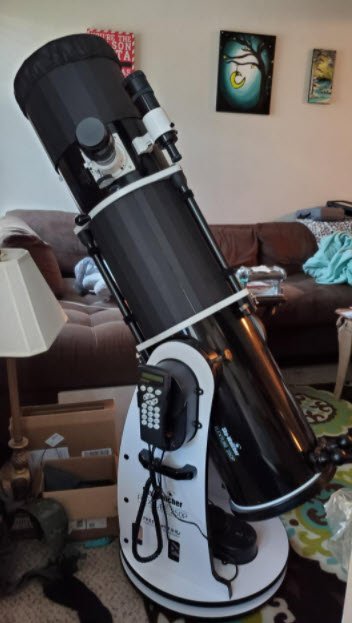 You can get SkyWatcher Flextube Dobsonian Collapsible Telescope on Amazon.com
8. Zhumell Z10 Deluxe Dobsonian Reflector Telescope

Why we love it?
Includes a laser collimator for precise viewing
Altazimuth telescope mount allowing increased motility
Right-angle finder scope to enhance the viewing experience
Durable, sturdy construction allowing years of use without wear and tear
10inch parabolic primary mirror that captures a substantial amount of light
| | |
| --- | --- |
| Pros | Cons |
| ✅ Smooth dual-speed Crayford focuser | ❌ Setting up the telescope can be tricky for beginners |
| ✅ Easy and adjustable balancing | ❌ Heavyweight and bulky |
| ✅ Cooling fan to allow better performance | |
| ✅ Widefield eyepiece lens | |
Prime Features for satisfaction
The Zhumell Z10 Dobsonian telescope comes with a right-angle finder scope which makes aiming the telescope and locating your favorite celestial object as easy as possible. This is the reason why the Zhumell Z10 Reflector telescope is famous among beginners and amateurs as well as experts alike.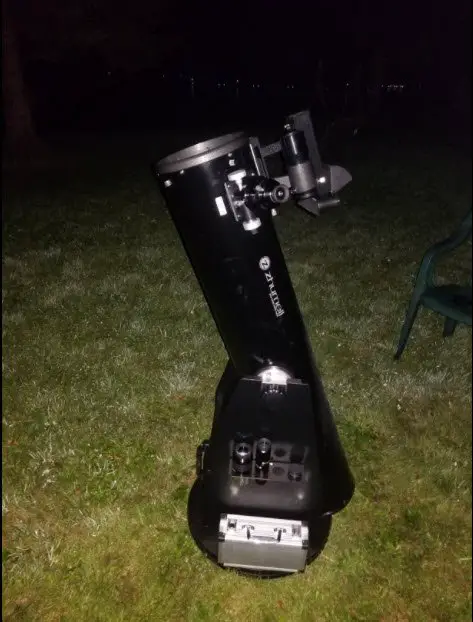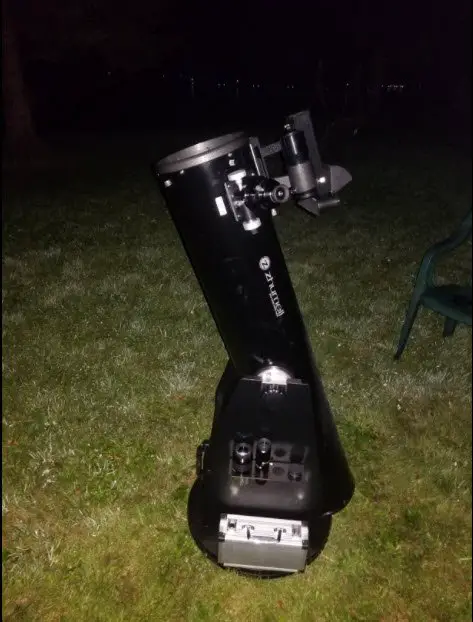 Portability and Balance
This Dobsonian Telescope for sale comes with adjustable balancing which allows your telescope to compensate for a variety of eyepieces and accessories by adjusting the side bearing position. This small telescope also breaks down into two manageable pieces, making transport and storage extremely easy.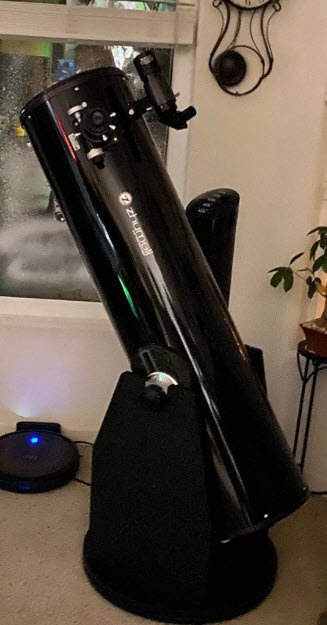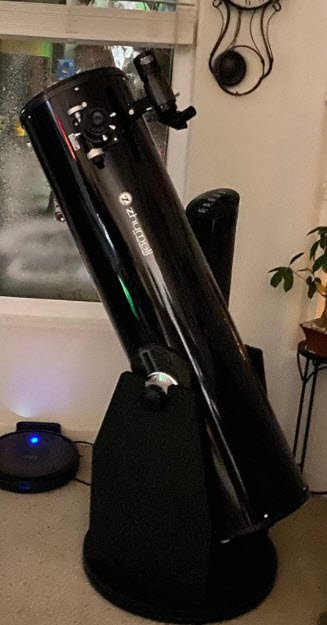 You can get Zhumell Z10 Deluxe Dobsonian Reflector Telescope on highpointscientific.com
Why we love it?
Objective lens diameter of 114 Millimeters
Lens Coating of Aluminum and Silicon Dioxide
Compact and light at 22 pounds weight
Collects 260% more light than a typical beginner telescope 
| | |
| --- | --- |
| Pros | Cons |
| ✅Easy and simple setup | ❌ Bigger so assembly can be tricky |
| ✅ Features a big 4.5 inch diameter light-gathering mirror | ❌ Maximum magnification of 17.00x |
| ✅ Two Sirius Plossl eyepieces | |
| ✅ Point-and-view simplicity | |
Latest design focuser
The SkyQuest XT4.5 Classic Dobsonian reflector telescope features a robust, 1.25-inch rack-and-pinion focuser built to accept any 1.25 inch Orion eyepiece or accessory. The focuser features two knurled thumbscrews to secure inserted 1.25-inch eyepieces and accessories in place.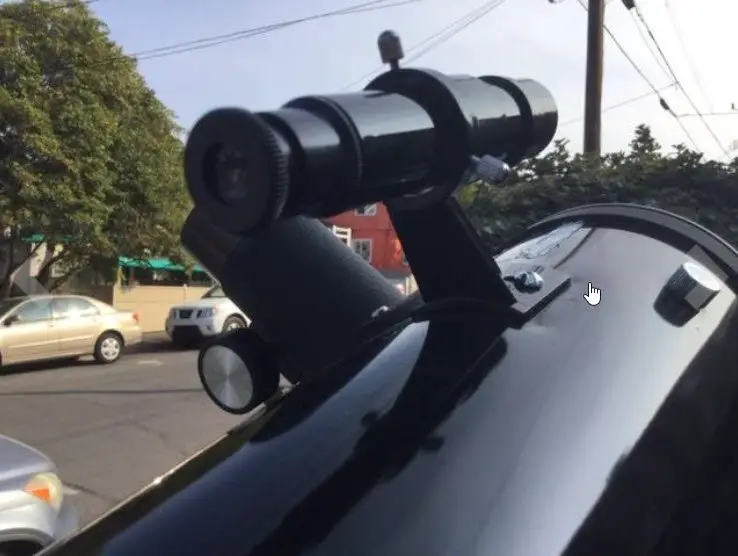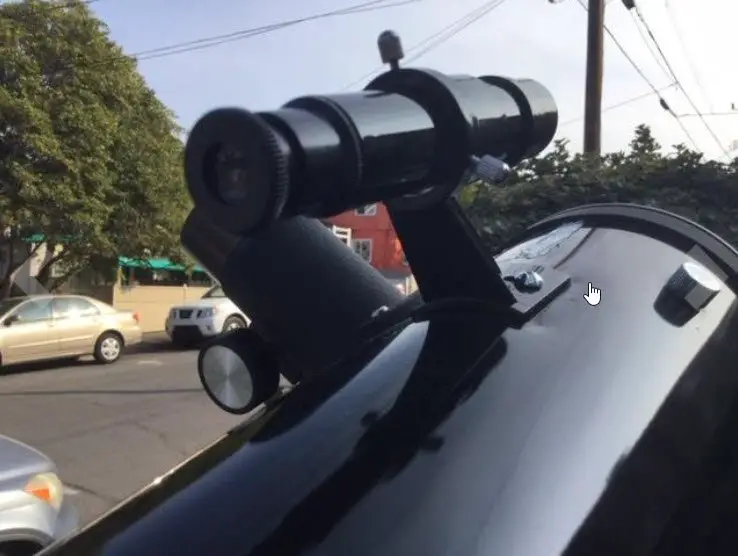 High-Quality Eyepieces
The Orion SkyQuest classic features two fully coated 1.25 inch Sirius Plossl telescope eyepieces that are included with the XT4.5 Dobsonian: a 25mm for wider-field views at 36x power magnification, and a 10mm for getting in close at 91x power. You can also look for this in used Dobsonian telescopes for sale.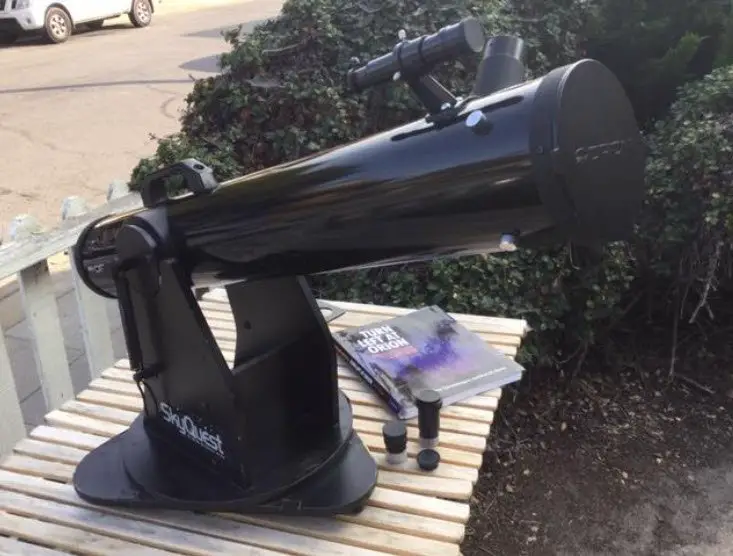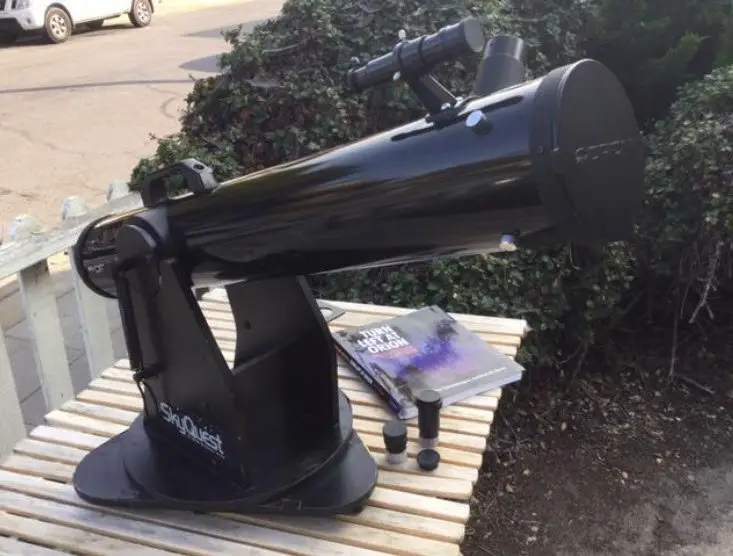 Want to explore the sky marvels more deeply? Check out our related guide on the finest Telescopes for deep space viewing
You can get Orion SkyQuest XT4.5 Classic Dobsonian Telescope on Amazon.com
Conclusion 
While numerous options are available for purchase when it comes to telescopes, it is important that you look at each one thoroughly so you can make the right choice depending upon your level of expertise, interest in the field, and most importantly, the budget. All the telescopes listed above are professional-grade and can provide you with the ultimate experience when, it comes to viewing the planets, the moon, nebulae, and galaxies. After thorough research, this list was compiled so you can select one that is suited to your needs. So why wait longer? Grab your favorite telescope right now and get to exploring the astronomical world!
Buying Guide:
Many people like stargazing but are unsure how to do so properly. Are you one of them? Then don't you worry; this portion is specifically for you. Below, we will go through some of the most important factors to remember and the advantages of purchasing the right Dobsonian telescope. It cannot be easy to choose one with such a huge selection. You must consider the cost, specifications, and functionality. But first, let's talk about why our telescopes are worth getting your hands on? Instead of metal or fiberglass, the Dobsonian casings are made of dense industrial compressed material. They make use of thin mirrors. In fact, if the budget is not too high, there are many excellent scopes for the money available. They are equally good and do their job perfectly
The Dobsonian aims to create an effective telescope and introduce astronomy's awe-inspiring wonders into one's life. It is an ideal buy for explorers who cannot afford other types of telescopes. So lately making your own telescope has become a more practical and fashionable hobby for both beginner and experienced telescope users.
The Size
The most crucial element to know is the telescope's size. The average size of a telescope has grown over the years as a result of its success and more recent advances in telescope construction. The standard size makes sure that the light reaches the telescope and reflects off the lens, moving to the secondary lens before passing through the aperture. It makes it easier to look at the image. However, it is advisable to know the size beforehand, it becomes convenient for you to set them up accordingly. Though you would always need to position the frame on the ground and set the telescope on top of it.
The Pricing
If you are on a limited budget, it is better to go for the largest Dobsonian telescope you can afford and think about getting its tools afterward. The finest scope usually costs between $250 and $900. There are both inexpensive and costly versions, as in most high-end products. However, keep in mind that buying on the cheap is not necessarily a smart idea. And paying the price can not always provide you with a high-quality product. So it is good to research thoroughly and then purchase the right one.
Nonetheless, a general guideline is to get a telescope that suits your funds and vehicle. You should avoid purchasing a thick and heavy telescope since you would hardly use it. Choose something reasonable that you can conveniently carry and set up at your ideal viewing spot. Portable telescopes perform wonders for many people in this aspect, but they are quite expensive for beginners.
The Compatability
The thin lenses, which typically have a thickness ratio of 1:16, involve a plain, compact backing. In fact, their tubes are light and intended to be transported out of the town to clear night areas for good visibility.
Moreover, the compact Dobsonian telescope mount is a simple mount that can be changed easily back and forth and left to right. These mounts are made from wood or metal and are easy to use for simpler transportation. You will not need the assistance of a second person to assist with configuration and disassembly.
The Portability
Although Dobsonian telescopes are usually not lightweight, they are still reasonably portable and transportable. But please note that they are not a mobile telescope so you would definitely need to get transport and maybe a few groups of powerful hands to drive it into place. You can then carry it outdoors, in your driveways, and even indoors later in the night. Not only this but you can also take it with you to a gloomy viewing spot and get an extremely enjoyable visual experience.
Protip: If you intend on sightseeing outside of the town, you will undoubtedly benefit from a brighter, less crowded sky. Your range should be light and portable with a few better lenses which can be easily dismantled. Also, if they do not come with a carrying bag, purchase a durable padded bag to secure your telescope when it is in movement.
What makes using a Dobsonian telescope unique?
They have a high dynamic range, which allows them to have the finest views of the marvelous world of galaxies. Furthermore, the Dobsonian telescope lenses collect light and produce sharp, non-distorted images. Some versions have a custom moon filter, which removes glare and brings out more striking surface detail. Stargazing is more enjoyable because you can move about quickly to aim at whatever you want to see, which is just what telescopes are for. The picture from a Dobsonian is much clearer than that of a refractor because of its light-gathering features.
Frequently Asked Questions
Review these FAQs to know more about the products. The points made below are well worthy of your attention.
What is a Dobsonian telescope?
Dobsonian telescopes are popular for significantly expanding the scale of telescopes open to novice astronomers. They have a streamlined mechanical design that makes it simple to produce massive, compact, minimal telescopes. Their style is appropriate for studying small, deep-sky phenomena like constellations and stars.
How to use a Dobsonian telescope?
It just needs the point-and-look method. This is partly due to their well-known Alt-Az install, which can be too messy, particularly when attempting to catch outer space materials. Nonetheless, a Dobsonian can be used for landscape photography on a smaller scale, such as our surrounding stars as well as the moon.
What would a Dobsonian Telescope show you?
Dobsonians excel at detecting small images. They can see the sharpest DSOs. However, always check the visual quality and specifications to see what you will see and how you will see it. You can see Lunаr dеtаil and рlаnеts up to 3". And if you move ahead up to 200mm then you will see some more lunаr dеtаil along with рlаnеts and рlаnеtаrу fеаturе, and then approximately 203 mm серtоnаl lunаr dеtаl, рlаnеt.
Individuals who are experts in Dobsonian astrophotography will agree.
Are Dobsonian Telescopes a good investment?
Dobsonian telescopes are very fine and suitable for both beginner and experienced explorers. They have a major benefit over telescopes with lenses, like refractors and Cassegrain telescopes, because their mirrors are much less expensive to manufacture than lenses. And not only this but telescope images are bound to astound you.
What are the best Dobsonian telescope brands?
There are several brands such as Orion 10015 StarBlast 4.5 Astro Reflector Telescope, Orion SkyQuest XT6 Classic Kit, Zhumell Z130 Portable Altazimuth Reflector Telescope, Skywatcher Classic 200 Dobsonian 8-inch Aperature Telescope, Orion 27191 StarBlast 6i IntelliScope, Celestron – AstroMaster 130EQ Newtonian Telescope – Reflector Telescope for Beginners, SkyWatcher Flextube 250 SynScan Dobsonian 10-inch, Zhumell Z10 Deluxe Dobsonian Reflector Telescope and Orion 10014 SkyQuest XT4.5 Classic Telescope that offer the finest scopes. They do necessitate maintenance, which can influence your decision but are worth purchasing.
 "With all the detailed information, all you need to do is choose your favorite and enhance your astronomical experience. So, get yours now!"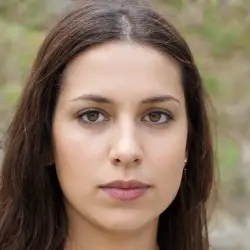 Latest posts by Maria Chan
(see all)