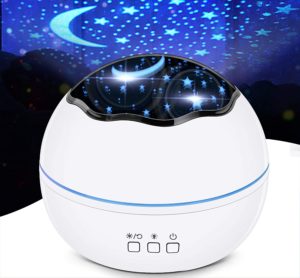 I hope you agree with me when I say:
 Star projectors are an extremely cost-effective way to add a bit of aesthetic or ambiance to your living space. 
Just over a century ago, our sky was dark yet filled with millions of stars that lit up the atmosphere. However, today's innovative, driven world is occupied with cars, buildings, and cities, all of which fill our surroundings with lights that block our once beautiful view of the night sky.
If you live in a space where many street lights and buildings produce a dim ambiance, you will definitely understand this issue. However, this hurdle can be easily overcome by using a star projector. These are versatile devices that we can effectively integrate into our living spaces. They can project high-definition images of interstellar objects directly onto the ceiling or walls, giving pleasant visuals.
Use them as an aesthetic household unit or simply a tool to light up your next party. Although, getting them in 2022 is no easy task. That's why today, we will be discussing the seven best galaxy projectors (with buying guide and FAQs) that you should avail from the market. So, without further delay, let's take a look at them!
Things to consider before buying star projectors:
Brightness and clarity: To get high performance out of your skylight projector, you need to make sure that it is exceptionally bright and has a decent amount of clarity. The area of projection should also be vast but with an accurate focus.
Power output and sources: Generally speaking, budget-friendly home planetariums are regulated by AAA-powered batteries, so they need to be changed regularly if you plan on using them frequently. Now, this is not economically feasible for any consumer.
Best Star Projectors 2022:
Here are our picks for top-rated galaxy projectors that you can buy right now.
1)  BlissLights Sky Lite Fantasy Star Projector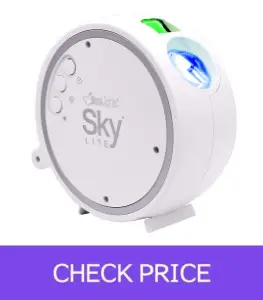 Why we love it:
One of the top-rated star projectors on the market
Provides a highly personalized drifting blue nebula styling
It's a fantasy star projector with an intuitive control panel
Multiple modes that are powered by AC output
Up to 6-hour straight battery life


| | |
| --- | --- |
| Pros | Cons |
| ✅It features top of the line patented blue Nebula effect | ❌It is an accurate star projector but with lex complex features |
| ✅Equipped with multiple modes to fine-tune your environment | ❌Some users report increased noise level with this product |
| ✅It's a cheap star projector with durable construction | |
2)  Sega Toys Home Planetarium Accurate Star Projector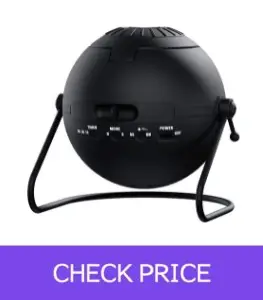 Why we love it:
Approximately 60,000 high-definition star projections
It's a quality galaxy projector with two projection disks
5-watt warm white LED star projector amazon
Tons of positive cosmos star projector reviews
Overall Quiet disc rotation


| | |
| --- | --- |
| Pros | Cons |
| ✅Small footprint with extra constellation disks | ❌It can't be recalled as a cheap star projector |
| ✅Equipped with a limited 2-year warranty | ❌The integrated motor can get pretty loud |
| ✅It comes with a built-in timer. | |
3)  Star Light Galaxy Projector for Kids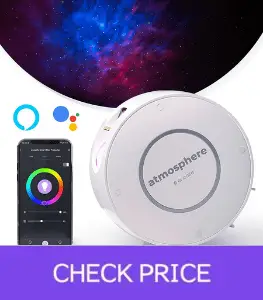 Why we love it:
One of the portable planetariums with a sleek yet elegant design
It offers a wide range of adjustable Brightness Settings
Equipped with a smart-down feature for added versatility
Ideal for solar system projectors ceiling
It can be utilized as a kids star projector


| | |
| --- | --- |
| Pros | Cons |
| ✅Multiple rotation cycles will help to tailor your mood | ❌The area of coverage is mediocre |
| ✅Fully compatible with both WIFI and Bluetooth | ❌Its colours aren't as vibrant as some of its competitors |
| ✅It's a mini star projector with the smaller footprint | |
4)  HOKEKI Star Projector Night light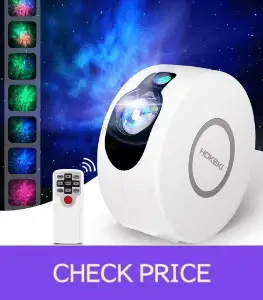 Why we love it:
It's the latest edition to 3 in 1 mini star projectors
Helps to project high-resolution stars and constellation
It can be implemented as a multi-functional night light projector
Perfect LED alignment with three soothing color options
An intuitive remote control regulates it


| | |
| --- | --- |
| Pros | Cons |
| ✅It will allow you to customize the angle as well as focus | ❌The given remote control can fluctuate regularly |
| ✅Compact yet lightweight design makes it suitable for outdoors | ❌Lack of accessories in the packaging |
| ✅One of the greatest star projector Reddit with alternate rotations | |
5)  GeMoor star light projector ceiling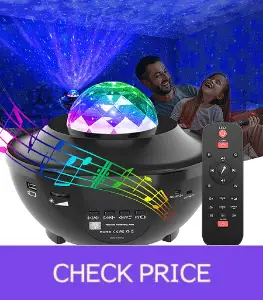 Why we love it:
Ideal starry night projector lamp with sound-activated flicker
Remote controlled operation for star light projector ceiling
It features Multi-Projection Effects for added adaptability
Compatible with reasonable Bluetooth speakers
More than eight adjustable brightness levels


| | |
| --- | --- |
| Pros | Cons |
| ✅Ultra-bright light with dozens of combinations | ❌The remote requires two AAA batteries to operate |
| ✅Solid ergonomics with decent visuals | ❌It's not a star projector for baby or younger audience |
| ✅Easy to sync with the music | |
6)  Dark Skys Star Projector for Adults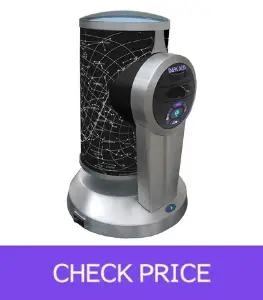 Why we love it:
A unique design with tons of perks on the backend
Operates randomly to give you the premium visual experience
It's a home planetarium with shooting star functionality
Accurate star projection with multiple alignments
It shares over 4 million stars in HD quality


| | |
| --- | --- |
| Pros | Cons |
| ✅It features chrome-plated star disks | ❌The brightness levels are a bit low |
| ✅Available with a pleasant-looking pouch for easy storage | ❌It lacks built-in speakers |
| ✅Backlit compatible control buttons | ❌Expensive star projector for room |
7)  Eicaus 2 in 1 Star Projector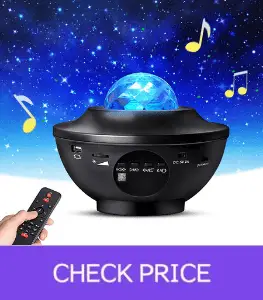 Why we love it:
It can also function as an ocean wave projector
Up to 10 regulative color option with specific diming
There is remote-control access as well as an auto-timer
A versatile Music speaker built-in with the design
Powered by a USB cable


| | |
| --- | --- |
| Pros | Cons |
| ✅Interchangeable wave and star patterns | ❌The quality of the music speakers isn't that great |
| ✅Incorporated with Auto-shutoff feature | ❌It can be a bit loud and noisy |
| ✅Prime star projector for baby as well as adults | |
Types of Nightlight Star Projectors in the Market:
1)   Kids Nightlight Projectors

These are some of the most basic models that don't come with any top-of-the-line features but are helpful for general usage. You can avail of them within a $100 price tag, while some are even present under $30. They are beneficial for children or babies who don't care about accuracy but want to see lightning as entertainment. Newer models are equipped with auto-rotation, but generally, their image remains still. MOKOQI Star Projector is an excellent example of such model.
2)   Star Projector for Adults

As the name suggests, they are well-suited for a larger audience who wants that clarity while still reaming within the budget price tag. They are placed under $200 while still offering prime features. These can project nebulas and other star systems more accurately and create a beautiful sense of ambiance in your living space.
You can utilize them in birthday parties or home theatres without any complications. You might get USB cords for the power outlet, which makes them a convenient unit in the marketplace.
3)   Laser Twilight Stars Projector

If you're a stargazing enthusiast and want the absolute best for your money, then these prime star projecting devices can be the ideal option. Due to their advanced features and greater accuracy, you might have to pay a price premium. They can cost you anywhere from $200 up to $1000 depending on the model and its area of expertise.
They usually come up with a built-in audio set up so you can adjust relaxing music with the laser star projector night sky effect. Speaking of which, you will also get multiple brightness and color effects to experiment with your setup. Besides that, they use top-of-the-line LEDs, which are much more power-efficient.
3 Main Things to Take in Consideration Before Buying a Night Light Projector
Buying a star projector for a ceiling or wall is not a straightforward task. You need to make sure that you pick the suitable unit that will future-proof you're saving. It needs to be durable, aesthetically pleasing as well as performance-driven. To make the process of choosing a star projector a little easier for you, we've come up with the following features that you should definitely look into your particular model.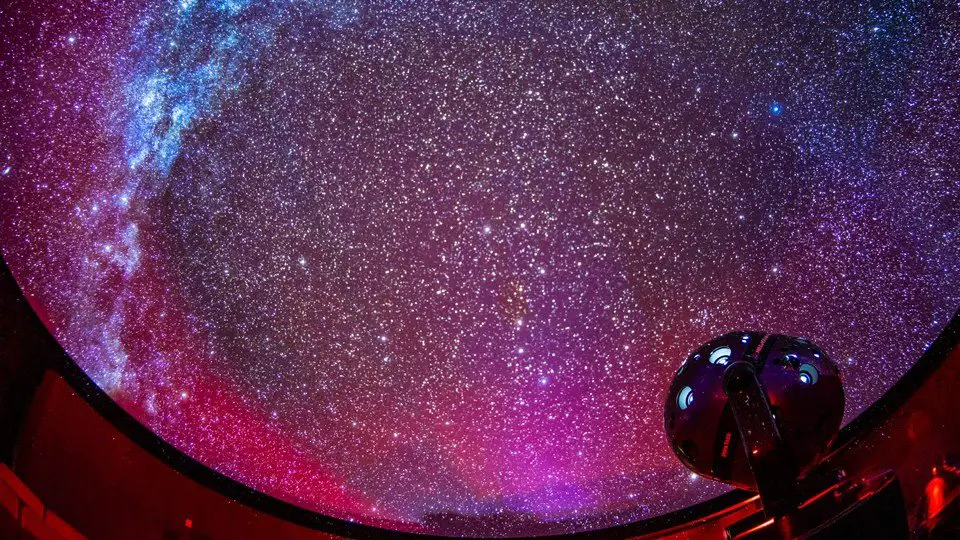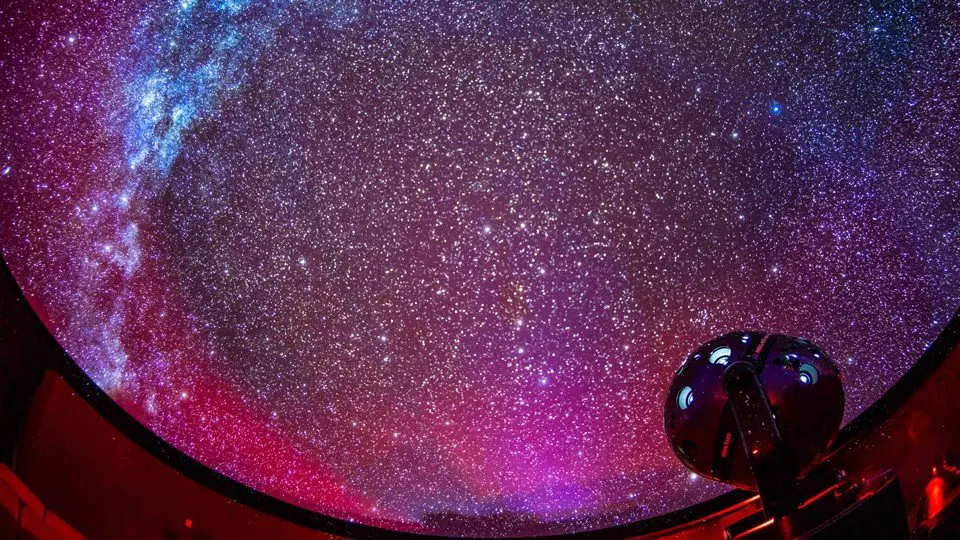 Overall Dimensions
Size can be an integral factor when buying any household accessory, and a star projector is no exception. First and foremost, you need to make sure that your buying model is well within the ideal size range. Specific galaxy star projectors are suited for kids. Thus, they are compact and integrate larger buttons. At the same time, others are adult-oriented with hefty construction and a decent weight. So, prioritizing the overall space is a must in your buying decision.
Brightness & Clarity
To get high performance out of your skylight projector, you need to make sure that it is exceptionally bright and has a decent amount of clarity. The area of projection should also be vast but with an accurate focus. Now, cheap projectors incorporate moderate-quality LEDs with incompatible projection angles. This, in turn, limits your visual experience as you use it in your living space.
Power Output
Generally speaking, budget-friendly home planetariums are regulated by AAA-powered batteries, so they need to be changed regularly if you plan on using them frequently. Now, this is not economically feasible for any consumer. That's why we will advise you to look for a model with a USB charging port. It will provide you convenience in the long run. Similarly, if you choose a premium product, you will receive a separate AC adaptor, which will help you save even more money.
ubuy.co.id
Conclusion:
So, there you have it, our list of the 7 finest Star projectors for the ceiling in 2022. Let me quickly summarize it for you if you're still unsure which model to choose. When it comes to the ideal value for money, the BlissLights Sky Lite is clearly the winner. It is not only ergonomically suitable but also extremely simple to adjust and use.
Besides that, it gives you a straight 6-hour of battery timing that you simply won't find anywhere else. In contrast to that, if you're looking for quality at a higher price point, then the Dark Skys astronomy projector can be a better option. It is accurate and ideal for multiple display effects.
Although no matter which model you pick, make sure to recheck our buyer's guide. It will defiantly help you out in narrowing down the selection process. If you liked this review, then make sure to check out the Best Monocular for Stargazing in the UK
Frequently Asked Questions
Q1. What is the best star projector to buy in the UK?
The BlissLights Sky Lite is the prime star projector UK due to multiple positive reviews over platforms like Amazon. The same is true when we talk about a quality star projector in Australia or the USA.
Q2. What is the main advantage of a star projector nightlight for a baby?
These devices assist your child in overcoming his or her fear of the dark. Galaxy projector lights are also effective in foster creativity in your baby, especially in the growing years.
Q3. Are home planetarium projectors worth it?
The home planetarium is effective in projecting celestial objects at greater precision. You can utilize them to launch the night sky on the ceiling without the need for additional setup procedures. If you have the budget, then yes, they are definitely worth it.
Q4. Is Sega Homestar original black among the finest star projectors?
Yes, the Sega Homestar is a realistic star projector that aids in implementing rotating star night light. It can get pretty loud sometimes, but other than that, it's good to go.
Q5. Is the auto-shutdown feature useful in star planetariums?
Some models are equipped with an auto-shutdown timer which is quite helpful for those who simply hate the idea of manual adjustments and want a bit of convenience.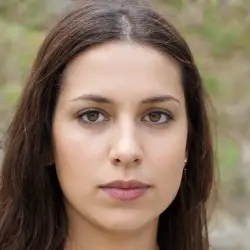 Latest posts by Maria Chan
(see all)