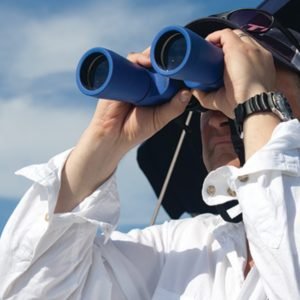 I hope you will agree with me when I say:
 Whales are one of the most magnificent creatures present on the surface of the Earth. 
Whales can become a little difficult to be seen. They tend to steer clear from shores or boats, or wherever any human activity can occur. Nevertheless, with advancements in the technology of optics, binoculars are a great tool for whale watching.
Hence, to remove the load off your shoulders, we have comprised this guide to let you know about the most amazing Binoculars for Whale Watching. Moreover, we have also provided you with a guide to help you consider key features at the time of selecting some good binoculars for whale watching.
You can also take a look at other types of binoculars. We have comprised a list of 7 Best Vintage Japanese Binoculars【WW2 Favorites】 that you can go through.
Best Binoculars for Whale Watching:
The table below lists some top-of-the-range binoculars that you can lay your hands on in 2022.
1. Bushnell 7X50 H2O Binoculars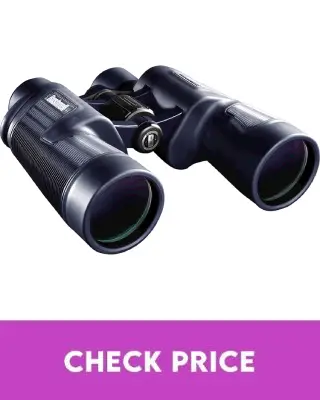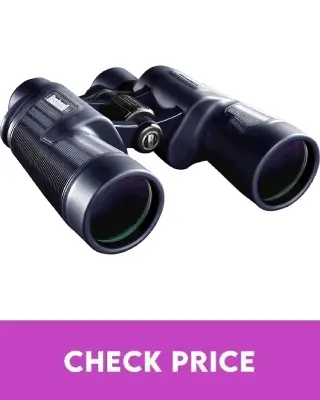 Why we love it:
They are affordable
Provide bright, sharp images
They are easy to hold with two hands
These binoculars are waterproof and fog-proof
They have a good resistance against corrosion
The specifications meet the right criteria for whale watching
| | |
| --- | --- |
| Pros | Cons |
| ✅Waterproof & Fog-proof so they can be used near water | ❌Heavy to carry it around in hands for long |
| ✅ 20 mm Eye Relief which is suitable for people with glasses | ❌Slightly Expensive than others |
| ✅ BAK-4 prisms for bright viewing | |
| ✅ Great Value for Money given the high-quality images for a suitable price | |
| ✅ Durable and can withstand tough conditions | |
2. Athlon Optics Midas 8X42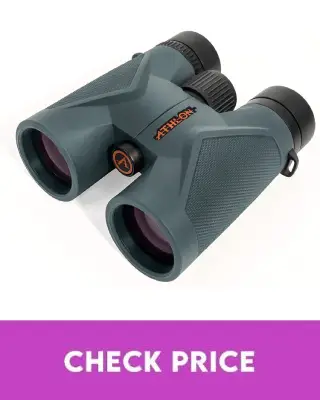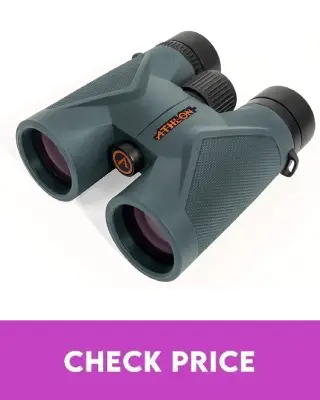 Why we love it:
Athlon features UHD glass which eliminates chromatic fringing
These binoculars are made up of Magnesium.
They are lightweight but durable
The ED glass provides top image quality
The Argon gas makes them waterproof and fog-proof
Phase correction and Dielectric coating give clear images
Anti-reflection coating and XPL coating prevents scratching of the lens
| | |
| --- | --- |
| Pros | Cons |
| ✅Waterproof & Fog-proof which protects from water damage | ❌A little on the Expensive side |
| ✅ Large Field of View to see wide images | |
| ✅ BAK-4 Roof Prisms for bright viewing | |
| ✅ Extra-low Dispersion give better images | |
| ✅ Scratch and Dirt-proof lens due to XPL and Anti-Reflection Coatings | |
3. Nikon Aculon 7X35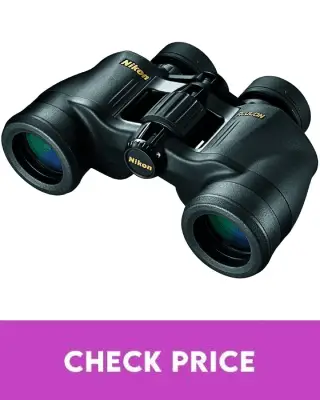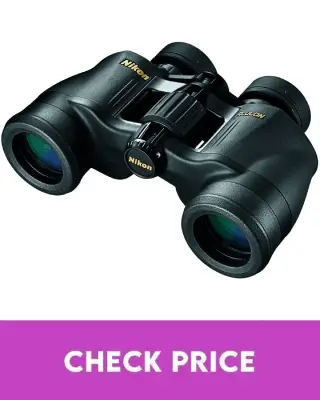 Why we love it:
These binoculars are extremely light in weight
They allow a wide view of 9.3 degrees
Nikon offers sharp optics
The rubber armor is waterproof and shockproof
They provide a long eye relief
The objective lens is constructed from eco-glass
They feature BAK-4 Porro prism system
| | |
| --- | --- |
| Pros | Cons |
| ✅ Waterproof & Shock-proof to prevent water damage | ❌Multi-coated Lenses but not Fully, so all components are not coated |
| ✅ Wide Field of View provides large images | ❌The Eye-Relief is on the Lower End, so people with glasses need to think |
| ✅ BAK-4 prisms for bright viewing | |
| ✅ Great Value for Money as you get bright, clear images at an affordable price | |
| ✅ Eco-glass Objectives without lead & arsenic | |
For other 7X35 binoculars, you can read through our article on the Top 7×35 Binoculars To Buy【Ultimate Guide】.
4. Wingspan Optics Ultra HD 8X32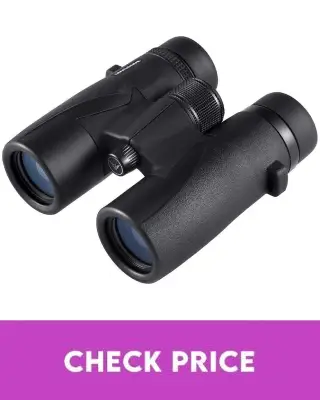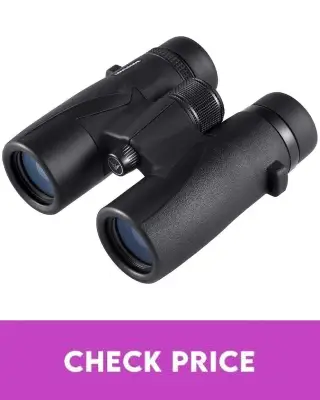 Why we love it:
They are extremely light in weight
Compact Design makes them easy to carry around
Wingspan has multi-coated lenses and phase correction coated prism providing HD images
The ED glass and the close focus technology prevents chromatic aberration
It has a large field of view.
It comes with a lifetime warranty
| | |
| --- | --- |
| Pros | Cons |
| ✅ Waterproof & Fog-proof protects from water damage | ❌ Lenses are not scratch-proof, so you need to be careful |
| ✅ Comes with a Lifetime Warranty | ❌ Not recommended for Dim Lights |
| ✅ Extra-low Dispersion glass helps to give better images | ❌ Less Brightness in images |
| ✅ Compact and Lightweight making it easier to carry around | |
5. Canon 15X50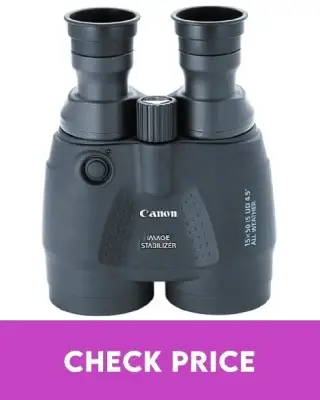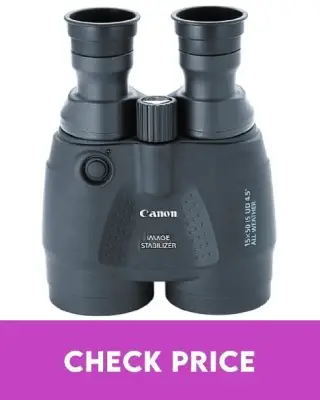 Why we love it:
This binocular stabilizes the image
It is water-resistant
It comes with a high magnifying power
The objective lens has a large diameter
It has an inbuilt image stabiliezer
The rubber armor is water and weather resistant
| | |
| --- | --- |
| Pros | Cons |
| ✅ Waterproof & Weatherproof prevents damage | ❌ Heavy to carry it around |
| ✅ Comes with a High Magnification of 15X to give you extremely enlarged images | |
| ✅ Great for Long Distances so you can view from faraway | |
| ✅ Produces High Quality, Stable Images | |
6. Nikon Action 10X50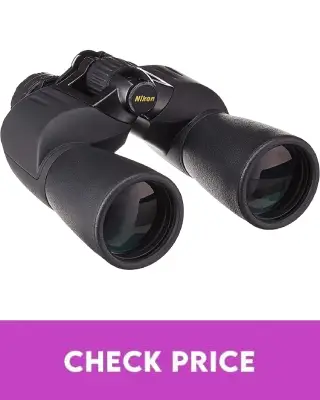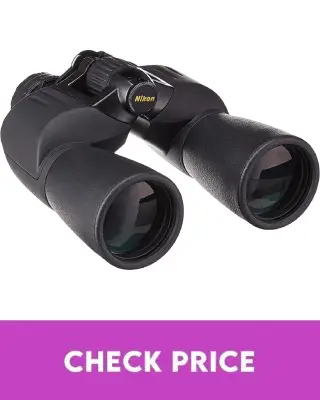 Why we love it:
It has a high magnification
It provides a large field of view
Bright, high-resolution images are delivered
Nikon Action is water and weather-resistant
The O-ring seal around lenses prevents water from entering the lens
The trapped Nitrogen gas prevents fog formation
| | |
| --- | --- |
| Pros | Cons |
| ✅ Waterproof & Weatherproof prevent damage under rough conditions | ❌ Heavy to carry it around for long |
| ✅ Comes with a High Magnification power of 10X, giving huge images | |
| ✅ Provides Bright, High-Resolution Images | |
| ✅ Quality Build which is sturdy enough to be safe under tough conditions | |
7. Aurosports 10X25 Folding Binoculars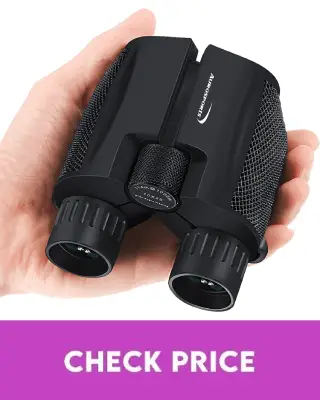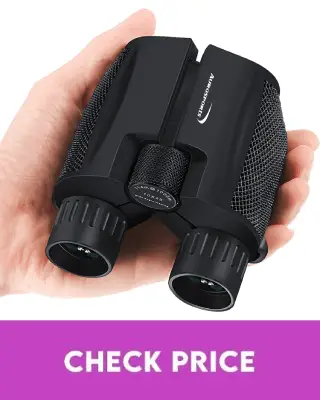 Why we like it:
It is very compact
This binocular provides high magnification
It is waterproof
The build is durable, with anti-slip properties
It is a highly affordable item
Anti-slip grip and durable material makes it optimal for rough conditions
| | |
| --- | --- |
| Pros | Cons |
| ✅ Waterproof preventing water damage | ❌ Unclear Instructions Manual so difficult to follow them initially |
| ✅ Comes with a High Magnification of 10X, providing very enlarged images | |
| ✅ Compact & Lightweight to carry around for longer durations | |
| ✅ Easy-to-Use, without any difficulty | |
Buying Guide
To buy binoculars for whale watching, you should have a budget in mind already. With that being said, the next thing is to look upon various features and determine what works well for you. For the ease of your binoculars buying experience, we have formulated a list of key features that are important to consider at the time of buying.
Binoculars can be used for many other purposes. For instance, you can check out the 20×80 Binoculars To Buy For Astronomy.
Conclusion
This article has comprehensively given the answer to your question "what is the best binocular to buy". All of the binoculars mentioned possess an array of features, which are suitable under different conditions. Based on your personal preference you can easily select any. If you do not know what to consider before opting for the best binoculars for the money or long-range binoculars with a camera, you can read our guide to know more.
Key Features to Consider
1. Magnification
A common concept is to pick the binoculars with the highest magnifying power. However, this can be either right or wrong, depending upon certain aspects. Mainly for whale watching, ideal magnifying power is solely dependent on the area you are going to use for watching the whales.
Binoculars come with different magnification powers such as 7X, 8X, or 10X. The power you are going to use depends upon how far are you going to watch from. For instance, binoculars with 7X or 8X magnifications can be ideal for watching whales from a ship or boat.


Since you do not want your enlarged image to exceed the field of view, a 10X magnification would not be recommended in that case. for the purpose of watching whales from the land, a 10X magnification will be the better choice.
2. Size & Weight
A 7X50 binocular can be a little too heavy, and hence, provide unstable imagery. In that case, using a tripod would be a suitable option. If in case, you wish to use binoculars by hands only, 7X32 or 7X35 binoculars will prove to be less troublesome.
Moreover, lighter binoculars can also be used while hiking or to view other objects such as birds. In such situations, heavier binoculars not only give unstable views but also can cause pain in your arms for holding them for a long duration.
3. Objective Lens Diameter
The second number in 7X50 or 7X32 represents the diameter of the objective lens, i.e., 50 mm or 32 mm respectively. The higher the diameter, the more amount of light will be captured by the lens. Increased light will produce brighter, clearer pictures, especially at night.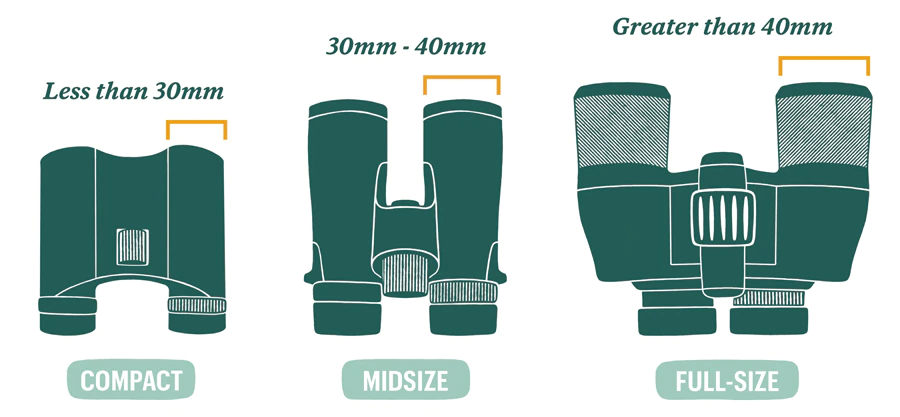 However, bigger lenses will also be heavier which then prove to be difficult to carry. Binoculars within 35-55 mm range can be ideal for viewing at all times, without being too heavy to carry
4. Eye Relief
Eye Relief is basically the distance between your eyes and the lens, that still enables you to see through the binocular lens. The longer the eye relief, the more comfortably you can use the binoculars away from your eyes. This might not be an important factor for many, but people with glasses are very concerned with this feature. Such people should consider binoculars with at least 11 mm longer eye relief.
5. Waterproof & Fogproof
It is a necessary step to consider protecting binoculars from any kind of damage. If somehow water enters the lenses, it will not be able to dry out. Hence, a waterproof binocular will not be damaged by water, of which there will be abundance! Moreover, you will also need to use fog-proof binoculars since water vapors will constantly fog your lenses when you are on a boat, or even when you are standing very close to the sea on the shore.
6. Field of View


Whales are big creatures, and for which you need a larger field of view. A large field of view is also useful to see moving objects, which can also be useful to watch whales playing. A 380-500 ft range would be suitable for viewing whales.
7. Prism System
The Porro Prism System takes up more space and therefore, corresponds to larger, heavier binoculars. However, the better part is that all the optical components in this system are mainly reflective and hence, much of the light is retained.
On the other hand, Roof Prism Systems make for lighter, compact binoculars. The reflective components are extra reflective, making up for the lost light. Extra measures also prevent double images and image flare to occur.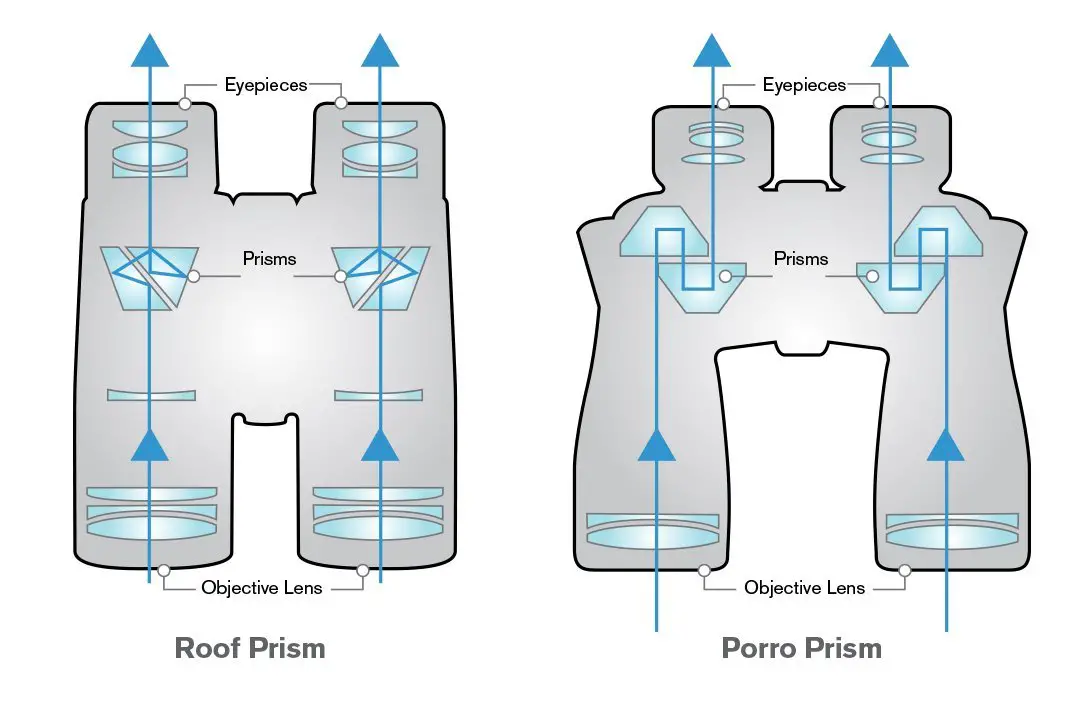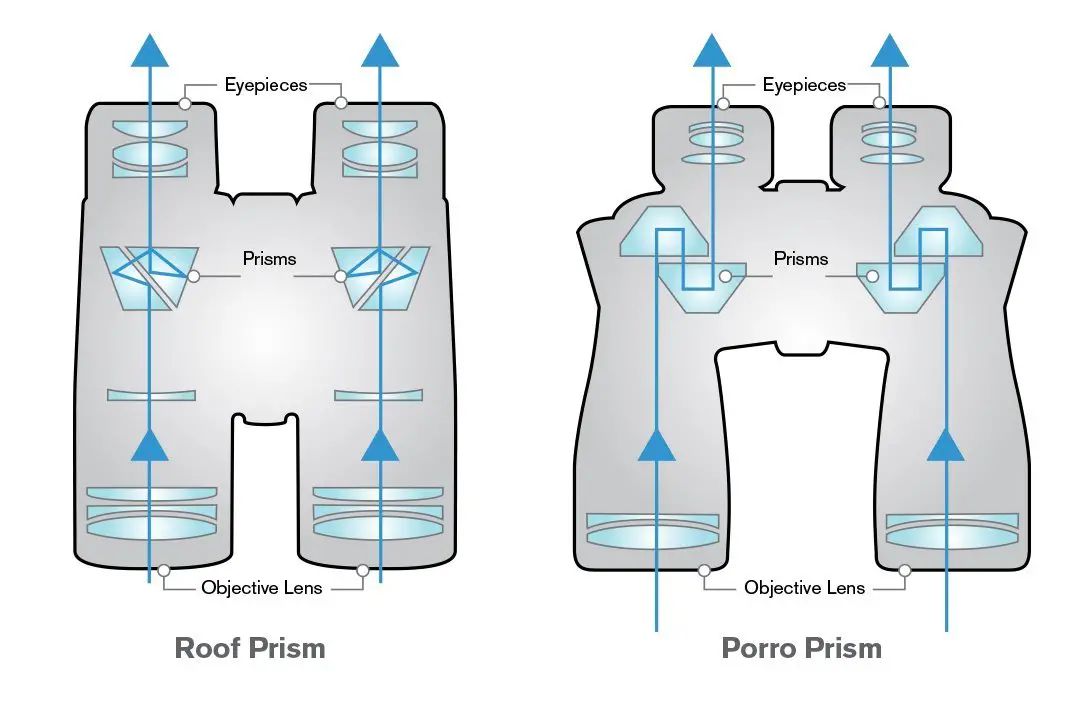 The various types of glass include Bak4, BK7, and Sk15. Out of these, Bak4 has a high refractive index and minimum light loss. However, BK7 is the most commonly available option in the market. Other than this, SK15 has the highest refractive index. Based on your preference, you can select the glass of your choice.
8. Optical Coating
One or more components can be coated with only a single coating. Moreover, a single component may be coated with multiple coatings and are called multi-coated. Another option is the fully multi-coated where all of the optical components are coated multiple times.
With regard to the external conditions you are bound to encounter, you can choose the optimum type of coating. With that, an extra-low dispersion glass, it is ensured that the outline of the objects is sharp and there is no chromatic aberration.
Sources: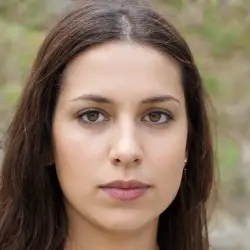 Latest posts by Maria Chan
(see all)