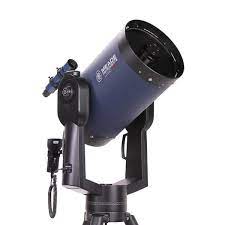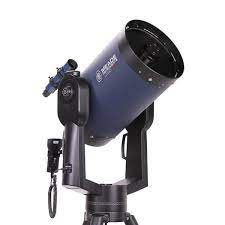 There are countless telescope manufacturers in the market now, but some companies have been here forever. Celestron and Meade are some companies providing astronomers with new equipment from a long time ago.
First telescopes matter a lot for people who are just getting into astronomy. It is absolutely crucial that you find yourself the most suitable telescope according to your liking to have a good start. Meade or Celestron are the companies most likely to provide you with just the right thing.
However, what to do if you are confused between the both of them? Because most people who just got into astronomy go over a Celestron vs Meade vs Orion phase. Both of them have their own pros and cons so we are here to give you a detailed review of both companies to help you decide better which suits you well.
Celestron vs Meade Major Differences:
Here are some of the major differences in Celestron and Meade Products that make them stand out from one another.
| | | |
| --- | --- | --- |
| Details | Meade | Celestron |
| Established | 1972 | 1964 |
| Manufactured in | Taiwan and Irvine, CA | Taiwan |
| Beginner-friendly | Yes | Yes |
| Price range | $45 – $19,000 | $50 – $8,700 |
| Warranty | 1-year | 2 years to limited lifetime |
Celestron vs Meade Telescopes:
Enough about Celestron vs Meade comparisons on the basis of performance and production, let us look at some of the products by both companies. In this way, You can understand better which product will be the best for you and why. We will be looking into beginner, intermediate, and expert-level telescopes manufactured by both Celestron and Meade. This would be the best way to do a Celestron vs Meade telescope review. So let us get into it without any further ado.
Best Meade Telescopes:
Here are the Meade Telescope reviews of some of the finest beginner, intermediate, and expert-level telescopes made by the company.
1. Meade Instruments – Infinity 70mm Aperture, Portable Refracting Astronomy Telescope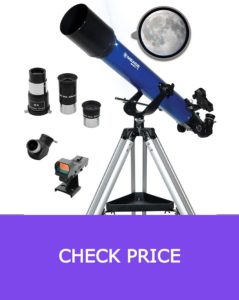 Why we love it:
It comes with three different eyepieces
You can see the clouds of Jupiter with it
It has a focal ratio of f/10
This telescope comes with an Audiostar DVD
It comes with a great Altazimuth mount
| Pros | Cons |
| --- | --- |
| ✅High-quality eyepieces | ❌ It is quite expensive |
| ✅It comes with a 2x Barlow lens | ❌ It does not come with a warranty |
| ✅It offers great visibility | |
2. Meade 8″ f/10 LX90 ACF Telescope with Field Tripod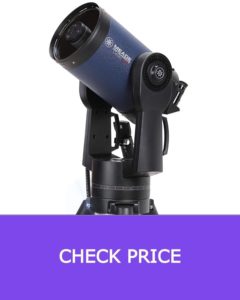 Why we love it:
It has an aperture of 200mm
Comes equipped with AFC optics
The optics are coated with Ultra-high transmission coatings
It eliminates astigmatism in its images
It comes with an Audiostar hand controller for easy maneuvering
| Pros | Cons |
| --- | --- |
| ✅26mm Series 4000 Super Plössl Eyepiece | ❌ A little tricky to align |
| ✅It comes with a Standard Field Tripod | ❌ The manual is a little tricky to understand |
| ✅It has a Max focal length of 2000 | |
3.
Meade Instruments 1010-90-03 LX90-ACF 10-Inch Telescope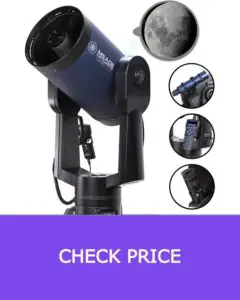 Why we love it:
It has an exceptional aperture of 10 inches
It has a great focal length of 2500mm and a focal ratio of f/10
Its optics are coated UHTC coating
The eyepiece is one of the best in the market
It is great for deep sky astrophotography
| Pros | Cons |
| --- | --- |
| ✅It has an aperture of 10 inches | ❌ It is difficult to find its replacement parts |
| ✅Its optics are coated with UHTC | ❌ Needs a bit of skill to operate |
| ✅It has a Max focal length of 2500 | |
Best Celestron Telescopes:
We have given you a detailed Celestron telescope review down below so that you can compare Meade Celestron yourself.
1.
Celestron – 70mm Travel Scope – Portable Refractor Telescope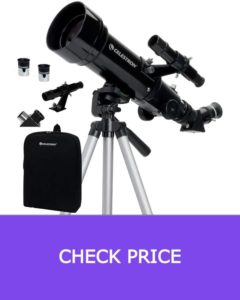 Why we love it:
It is cheaper as compared to Meade Telescope
It is lighter in comparison to the Meade Infinity telescope
You can travel with this telescope easily
It comes with a one-year warranty
It is a great bang for the buck
| Pros | Cons |
| --- | --- |
| ✅It has quite lightweight and easily portable | ❌ Not great for professional use |
| ✅Its price is really affordable | ❌ The eyepieces could be better |
| ✅It comes with a 2-year warranty | |
2.
Celestron – NexStar 102SLT Computerized Telescope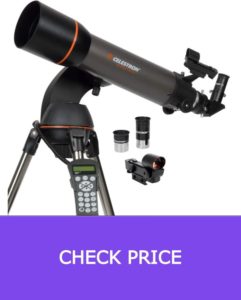 Why we love it:
It is one of the best intermediate-level telescopes in the market
It is compact and easily portable
This telescope comes with a two-year warranty
The StarAlign setup makes it ready to view in a few minutes
You can see deep sky objects in great clarity with it
| Pros | Cons |
| --- | --- |
| ✅It is compact and portable | ❌ It needs expert skill to operate it |
| ✅This telescope can give you clear images of Saturn's belts | ❌ The SkyAlign might be hard to use for some people |
| ✅It offers a database of more than 40,000 stars | |
1. Origin:
Celestron is a company based in Torrance, California and it was established way back in 1964. Its parent company is Valor electronics which was founded by Tom Johnson. It's actually quite an interesting story of how Celestron was found. Johnson got into astronomical equipment when he built a 6″ telescope for his son and in 1964, he had established a division of Valor Electronics named "Celestron Pacific" which was later on changed to Celestron.
Meade on the other hand is a company based in Watsonville, California and it was established in 1972 by John Diebel. Meade Instruments or Meade manufactures and distributes equipment like telescopes, binoculars, CCD cameras, Spotting scopes, and telescope accessories. It is the world's largest manufacturer of telescopes. Meade and Celestron actually have a history together. Celestron almost went out of business in 2001, and its business rival Meade tried to take over the company but a bankruptcy court allowed the company to be run by the same owners.
2. Production:
Celestron is well known for being the first large-scale manufacturer of the revolutionary Schmidt-Cassegrain telescope. It introduced its first C8 8″ diameter 2032 focal length, f10 telescope in 1970. Celestron came up with a cheaper and effective way of producing the correcting plates for the Schmidt-Cassegrain Telescope and that was the major innovation that they did in their telescopes.
They were able to manufacture uniform correcting plates in an inexpensive manner using a vacuum to pull the glass blanks into a pre-shaped curve mold called a master block. The Celestron Telescope Tubes had a signature orange finish which was later changed to matte black. But in 2006, it was again changed to glossy orange color.
Now as for ease of use, the Celestron Telescopes are ideal for people who already have an idea of operating telescopes. Their telescopes are not really ideal for beginners but are more suitable for people of an intermediary level. However, they do produce some telescopes that they market to be for beginners. Most of their telescopes are also quite pricey so if you are looking for a long-term one-time investment, their products are pretty safe to opt for.
Meade on the other hand makes products that are easy to use and accessible to all kinds of people because of their low prices. These products include binoculars, eyepieces, spotting scopes, telescopes and so much more. Meade produces some of the finest entry-level astronomical equipment but it would be totally wrong to assume that they do not produce high-end tools.
The price of their telescopes ranges from 50$ to $19000 and I am guessing that you can already guess the amount of versatility in their production. Their high-end telescopes with ultra-high transmission coatings and 16-inch focal lengths are used by leading astronomers of the current age. It would be safe to say that Meade will provide you with equipment that will help your progress in your journey of astronomy regardless of how experienced you are.
3. Performance:
As we already discussed that Celestron brought a revolutionary product into the market at a really affordable price. This product was the C8 Schmidt-Cassegrain telescope. However, with time, they have also invested heavily in computerized equipment. You can also control your Celestron telescope electronically via your android or iPhone by installing their Sky Portal App. Celestron also has many other new-age features like the NexRemote Hand Controller. Celestron also has software named Starry Nights that is rich with information and details about celestial objects.
We know that Celestron is well known for manufacturing the most pristine quality Schmidt-Cassegrain Telescopes. But what if I told you that Meade also produces the same type of telescope which is equal to the Celestron EdgeHD 14 inch or even might be better than it in some conditions. Meade definitely does not lag behind in any way when it comes to manufacturing top-notch high-end telescopes. Meade also uses software like Audiostar and SkyCapture to help its customers with their work.
Frequently Asked Questions
1. Are Celestron telescopes good?
Celestron Telescopes are some of the finest telescopes you could get on the market. They are a little tricky to operate for beginners but once you get the hang of them, you will not find any telescope from any other company to be of your taste.
2. Where are Celestron telescopes made?
Celestron Telescopes are manufactured in Torrence, California.
3. Is Meade better than Celestron?
Both of the companies make exceptional telescopes and it is really hard to tell which one is better. The difference of opinion among people on this topic comes from their own personal choice. There is no valid argument to categorize one company to be better than the other as they have been rivals for years.
4. Are Meade Telescopes made in China?
No, all of the components of Celestron's scopes are made in China but the telescopes of Meade are still made in Mexico.
5. Meade vs Celestron 8 SCT, which one is better?
It is hard to choose a winner in a Meade vs Celestron 8 SCT comparison because both of them come with almost identical features.
6. Where are Meade telescopes made?
Meade's telescope components are made in Mexico.
Here is a youtube video to help you decide better on which telescope to buy.
Conclusion:
This concludes our detailed review of Celestron vs Meade Telescopes. It's true that both of the companies have been business rivals for decades now and they are still pushing each other to become better. They are both exceptionally good companies when it comes to telescopes and astronomical equipment. We hope that the information we provided was helpful to you and the Meade and  Celestron Telescope reviews gave you a better look at the whole Meade vs Celestron telescopes comparison.
 So what are you waiting for? Go get your favorite Telescope and start your astronomical journey right at this moment.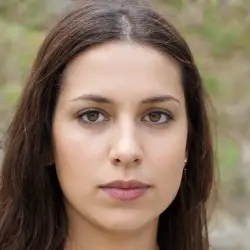 Latest posts by Maria Chan
(see all)