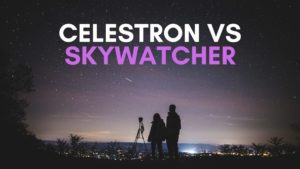 I hope you will agree with me when I say:
 "Choosing your first telescope has never been easy, and when it comes to Celestron vs. Skywatcher, things become a bit further complicated" 
If you are in the market for good telescopes to buy, then the chances are you might've stumbled upon two leading brands, i.e., Celestron and Skywatcher. Both of them are reputable manufacturers aimed at professionals and astrophotographers, and they excel in performance and can provide you with the clarity you rightfully need.
Although they may differ in terms of design and construction, when you consider their quality, both of them are great options. Even being reputable telescope makers, there are many questions like Are Celestron telescopes good? Or Should I go for the Skywatcher route? To answer these queries, we have put together an in-depth guide about Celestron vs. Skywatcher.
We will be looking for things like which is the best type of telescope from each owner and how well they stack against it in terms of affordability. Similarly, in the end, we will go through the best telescope buying guide to further ease out your decision. So, let's get straight into it!
Skymaster & Celestron telescopes – A Brief History
Celestron Telescopes Overview

Celestron is no doubt one of the giants of optical equipment and certainly needs no introduction. The company was founded back in the 1960s by Tom Johnson as he was searching for a telescope to buy for his son but was dissatisfied with the models currently in the market. Later down the road, he helped perfect a method for mass production of Schmidt corrector plates at a cheap cost.
Thus, Schmidt Cassegrain was born. Fast forward today, they have produced several telescopes tailored toward astronomy and stargazing. One of them is the C8 series, which is still up and running classic models. Newtonian and fast refractors are ideal for wide-field images of the sky, and that's what the C8 series is all about.
Skymaster Overview

Skywatcher is another brand founded by the Synta Technology Corporation (a Taiwanese company) back in the 1990s. Their business model revolved around producing high-quality optics which can deliver substantial performance in a compact design. Their products range from military-grade binoculars to Dobsonian mounted telescopes and refractors. Now there has been a misconception among amateur astronomers that is both Celestron & Skywatcher are the same company.
However, that's not the case. Both of them originate from the same parent company, i.e., Synta Technology Corporation but based on design, packaging, and even performance, they can significantly vary. This is the reason why you will find debates on exploring scientific vs. Skywatcher across several online forms.
Learn more about Best Dobsonian Telescopes in 2022 and make better decision! 
Celestron vs. Skywatcher Popular Innovations – Which is the best type of telescope?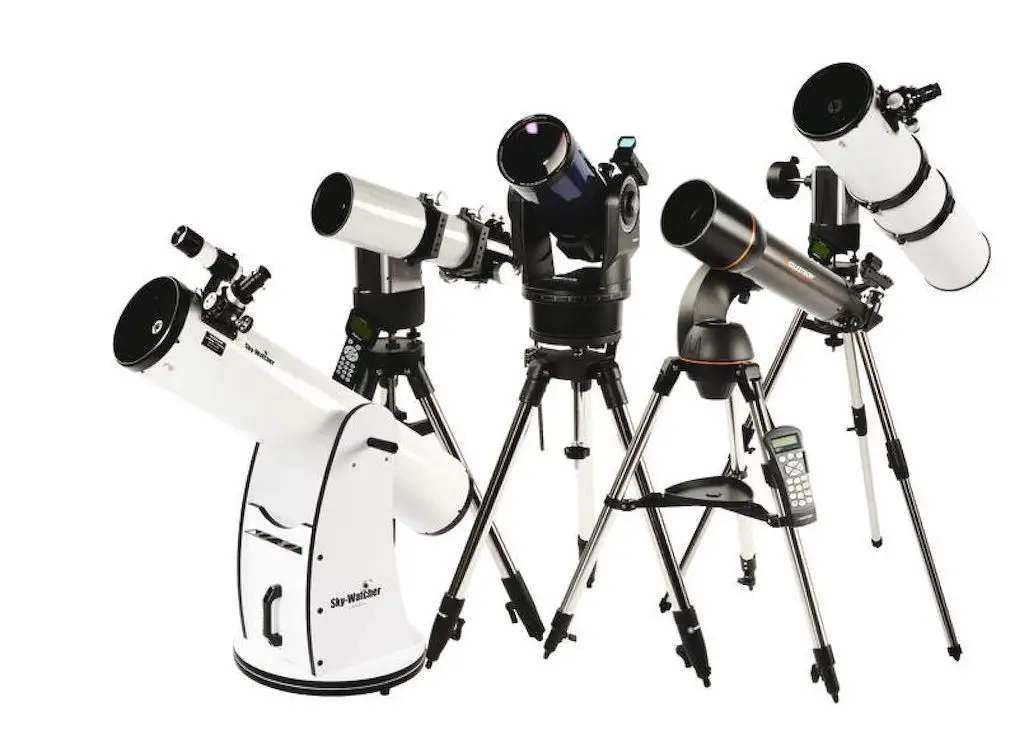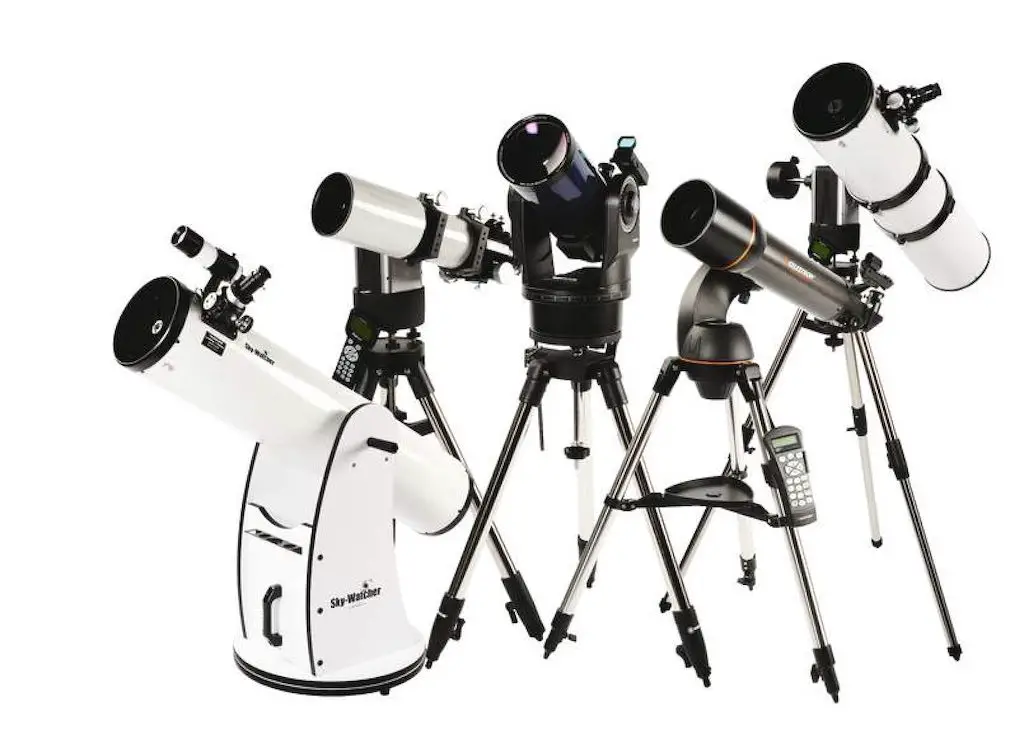 No two telescopes are created equal, which is true for both Celestron & Skywatcher. Over the years, they have produced a number of products that excel at their performance and provide the user with a decent experience. With that said, it's time to look at some of the models from their popular lineup;
Well-known Celestron Telescopes
1)   PowerSeeker 80AZ
The PowerSeeker from Celestron is one of their budget options with a small 400mm f5 tube and an 80mm aperture. If you're looking to observe rich field nebulas and galaxies, then the PowerSeeker 80AZ is something we definitely recommend. Both beginners and supervised children will love this model because of its convenient adjustments. It provides a vast field of view, and the eyepiece section is just under 20mm, giving 20X magnification.
Another cool thing about it is the tightening knob, which is smooth yet easy to use. It also comes equipped with a basic AZ mount, which is the same as we saw in previous-gen PowerSeeker's (PowerSeeker EQ).
2)   Celestron – NexStar 8SE
Up next, we have the NexStar 8SE, which is categorized as a high-end or best-selling model from Celestron. Being a Schmidt-Cassegrain telescope, it features an 8inch aperture which provides an optimal light gathering experience for those who want to observe deep, celestial objects. It's fully computerized, meaning; you don't have to spend hours adjusting it to the right configuration.
With updated technology, it will align itself for the best possible experience. Other than an automated mount and a seamless design, it is compatible with Celestron's starry night software to further up its use case. In terms of price, it isn't debatable as explore scientific vs. Skywatcher, which is also a good thing.
3)   AstroMaster 114EQ
When it comes to viewing the planets straight from your backyard, there isn't a telescope that can match with the AstroMaster 114EQ. It's super easy to store the 114EQ, and you can bring it on your next camping trip without any issue. In addition to that, it comes compatible with a 2X Barlow lens, which operates at greater magnification, giving you better clarity. Attaching a point shoot camera at the rear end is an option for both amateur and professional astrophotographers. This is great for observing the lunar surface.
Well-known Skywatcher Telescopes
1)   Evostar-80ED
If you are looking for a refractor telescope with reasonable magnification and a prominent form factor, the Evostar-ED is something you don't want to miss out on. Skywatcher 80ed astrophotography comes with a 600mm focal length (f/7.5) and an 80mm aperture, perfect for deep-sky viewing.
It uses anti-reflective coatings to minimize glare and give you prominent results. Other than that, there is a 9×50 finderscope with every skywatcher ed80 for sale to enhance your experience even in the dark sky.
2)   Sky-Watcher Flextube 200
Upon the list, we have a Dobsonian telescope from SkyWatcher, the Flextube 200. It features a unique yet modern-looking design that fuses the eye and makes it durable. Thanks to its small form factor with reduced weight, you can move it around the house.
All accessories are available out of the box, meaning you won't have to spend extra on things like mid-range focuser or angle finder. If you're confused about exploring scientific vs. Skywatcher, let us tell you that there are Teflon ball bearings within the packaging, making it smooth yet responsive.
Want to learn more? check out the Best 7×35 Binoculars To Buy 2022
Celestron C90 vs. Skywatcher Skymax 127 – Heads-on Comparison
| Characteristics | Skywatcher Skymax 127 | Celestron C90 |
| --- | --- | --- |
| Aperture | 127mm | 90mm |
| Focal Length | 1500mm | 1250mm |
| Focal Ratio | f12 | f14 |
| Optical Design | Cassegrain | Maksutov-Cassegrain |
| Scopes | Red-dot finder | 8x12 Optical finder |
| Viewing Mirror | 90mm mirror | 45-degree prism |
| Mounting | Vixen Dovetail | EQ mount |
| Weight | 3kg | 2.2kg |
| Extras | 10mm & 25mm eyepiece | 32mm plossl |
Aperture:
So, let's start with the telescope's most important feature, i.e., the aperture. The Skymax stands at 120mm with a 5inch mirror in this department, while the Celestron c90 at around 90mm. This accounts for a three-and-a-half-inch mirror which when you compare against skywatcher ed80 for sale. Also, before you buy any of these, keep in mind that the selective aperture might be a bit lower than advertised, so in the case of Skywatcher Skymax 127, it could be as trivial as 120mm.
Focal Length
In terms of focal length, there is a meter and a half (1500mm) of focal length inside the Skymax, while for the Celestron telescopes, including this one, it's about 1250mm. Due to these configurations, we could say that the Skymax is operating at just under f12 and the Celestron at just under f14. The effect of this is apparent when observing deep space objects. With higher magnification, the Skywatcher Skymax 127 is clearly the winner.
Spotting Scope
Both of these variants have finder scopes attached, which are quite functional for their budget. The Skymax 127 comes equipped with a decent range of RD finders. On the other hand, the Celestron C90 is provided with an optical finder which is in an 8×12 configuration. Now accuracy for the Celestron telescopes like this particular model isn't that high, and you want to change it as soon as possible, especially if you want to use it for stargazing.
Viewing Angle
Another crucial factor in Celestron vs. skywatcher debate is adjusting the angle of viewing. As expected, the Skymax 127 allows users a 90mm mirror diagonal, which is pretty standard with models like the skywatcher ed80 for sale. Whereas the Celestron C90 has a 45mm erecting prism that is lightweight and functional.
Due to this arrangement, you can use the Celestron c90 as a spotting as well as an astronomical telescope. Don't practice it for almost every Astro target since the prism arrangement can induce strange artifacts and is generally not ideal for nighttime viewing.
Celestron vs. skywatcher mount
In terms of mounting, the Skywatcher Skymax 127 has a Vixen Dovetail bar with excellent green finishing. While the Celestron C90, a smaller unit, is compatible with an EQ mount. What this means is you will be limited in terms of attachment space.
Weight
Additionally, the Skywatcher Skymax 127 scales at around 3kg, while the c90 is approximately at 2.2kgs. So, in short, neither of them is heavy scopes. The Skymax series might feel a bit bulky, but both can be used as portable stargazing equipment.
Accessories
When you buy either of Celestron's Skywatcher telescopes, you will receive a range of accessories. The Skymax comes equipped with two eyepieces (a 10mm & a 25mm), which work wonders for astrophotography. Conversely, the C90 model provides you with a single 32mm Plossl, which is quite a durable construction as compared to previous-gen telescopes ( Celestron AVX vs. skywatcher HEQ5).
Optical Performance
After a basic overview aside, it's time to check how the sentiment of Celestron vs. Skywatcher compares in terms of real-world use-case. So, for this reason, the setup will be based on an ASI 120camera with 2x Barlow on an equatorial mount. The image under observation will be Great Red Spot (planetary) to provide ideal results. After processing the images from both telescopes, we can say that the 127's visuals are better than the c90 ones.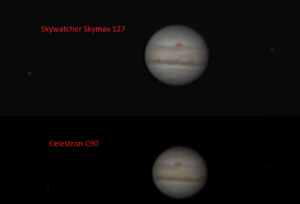 We got more detail in the equatorial bands, and the contrast is a lot accurate for the Great Red Spot. So, in these conditions, the Skymax 127 beat the Celestron model but not by a huge margin, and in fact, there isn't a huge amount of difference. Of course, the Skymax 127 may have a bit more detail than expected, but it's not that huge compared to its smaller counterpart i.,e the Celestron c90.
Buying Guide
Guide to Buying a Telescope – Which is the best type of telescope in 2022
Even after all this disclosure, we know that many beginners might be confused and ask themselves, are Celestron telescopes good? Or what to buy in 2022. Well, if that's the case, then it's ideal to look at some of the things that separate a quality/high-end telescope from a cheap and second-class model. These things may range from the basic specs to all way to accessories, so make sure to follow it till the end to find out which is the best type of telescope for your particular needs.
Refractor Vs. Reflector
The first and foremost thing that needs to be discussed in this telescope buying guide is the difference between reflector and refractor. On paper, one of them contains a glass lens while the other follows a refurbished mirror. In refractor telescopes, the light comes from the front and travels all the way down to a single point, where it is focused.
In the case of a refractor telescope, the incoming light behaves the same way but is reflected by the primary mirror. To keep it simple, you need to look down and then up through the eyepiece in refractor telescopes. While for reflectors, you observe from the sides and then look down at the reflected image.
Both of these types of telescopes have pros and cons, so make sure to go through them if you're choosing from either Celestron vs. Skywatcher or explore scientific vs. Skywatcher.
| | |
| --- | --- |
| Refractor | Reflector |
| Provides clear and sharp images | Features adjustable glass lens |
| Best suited for beginners | Substantial aperture |
| Equipped with a glass lens | This leads to brighter images |
| Requires maintenance | Requires collimating |
Altazimuth Vs. Equatorial Mounts
When it comes to mounting, there are generally two types in the market i.,e the EQ and the AZ. The Altazimuth mounts are extremely simple to adjust and use, and their degree of altitude is set at up, down, right, and left. As your looking for celestial bodies, you need to move them around at a given angle. On the other hand, Equatorial mounts wander in a unique motion known as right ascension as well as declination.
This means you will receive 360degree movement with EQ mounts as compared to simple or AZ ones. If you're trying to follow, let's, say a planet, you need to follow it across the board, and this is when AZ mounts come into play. While with EQ mounts, all you need to follow is a single direction once you have set it up.
As in the case of refractor and reflector telescopes, you need to keep in mind that both of these mounts have benefits and drawbacks. This is prominent in the case of Celestron avx vs. skywatcher heq5. Both of them have almost the same set of features; it's their application, which varies greatly. One of them is ideal for general stargazing, while the other is useful in terms of studying things like the lunar surface.
| | |
| --- | --- |
| AZ Mount | EQ Mount |
| Easy to assemble | Provides a smooth tracking |
| Great for beginners and younger audience | Ideal for professional astrophotography |
| Relatively inexpensive | Uneven eye-positioning |
| Distortion across the night sky | Assembly takes a bit of time |
Eyepiece & Added Accessories
Now pretty much every telescope on the market (especially the moderate ones) comes equipped with several eyepieces as well as some addons. Usually, you will get a 10mm and a 20mm eyepiece with your package. The rule of thumb here is finding better eyepieces, especially the one which provides better magnification.
Other models, such as in the case of Skywatcher 80ed astrophotography, provide the user with an additional barrow lens as well as a finder scope. These things are useful, especially for those looking to observe deep-sky in a number of environments. Now they aren't absolutely essential but something to keep in mind when buying your next scope.
Conclusion:
All in all, this was our takedown on Celestron vs. Skywatcher telescopes in 2022. At the end of the day, it doesn't matter which one of the models you choose for stargazing as there is little to no difference between both. Each of these manufacturers is quite renowned in their industry and can give you the rightfully desired experience. Of course, Skywatcher telescopes excel at their quality, but that doesn't mean you should ignore Celestron. In fact, their latest models are built-in like a tank and can last for years to come. Just listen to your heart and go with the vendor that you feel comfortable with, and you won't be disappointed!
Frequently Asked Questions
Q1, Celestron vs. Skywatcher mount, which one is best?
Skywatcher or Celestron, both of them have produced reliable mounts over the years. However, Skywatcher is preferred by most professionals since their mounts generally have better control.
Q2, Who is the winner in Explore Scientific vs. Skywatcher scopes?
If you're looking for good telescopes to buy, then Skywatcher is clearly the winner. However, explorer scientific also has a couple of scopes worth checking out.
Q3, Are Celestron telescopes good?
When looking for the best high-quality telescope for beginners, it's evident that Celestron will be at the top of the list. This means you can surely invest in their equipment.
Q4, How can I find a budget telescope for beginners Amazon?
Telescopes such as the Celestron Astro Fi 102 or Sky-Watcher Skyliner 200P are best suited for beginners. The great thing about them is that they are budget models, so you won't need to spend much. For further information, you can check the in-depth review on Celestron avx vs. skywatcher heq5.
Sources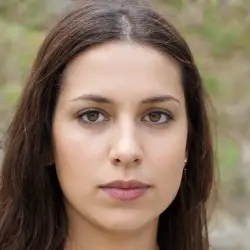 Latest posts by Maria Chan
(see all)