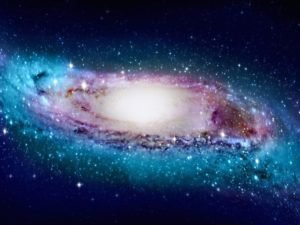 Before looking into what are the different types of galaxies and finding out if there are 3 types of galaxies or 4 types of galaxies, one must be aware and in touch with how are galaxies classified and came into existence to be called as galaxies. 
The Origins
Precisely, there are two theories that explain the origins of galaxies, the bottom-up theory, and the top-down theory. 
If we analyze what the bottom-up theory has to say we can put it as when after the big bang several different clusters came into existence which then combined together as larger units to form different types of galaxies. The top-down theory however suggests that different types of galaxies came into formation first and subsequently the stars and other celestial bodies came into existence.
Origins for the Classification of Galaxies
Once we have understood the differing theories for how galaxies were formed, we must now look into the history of how are galaxies classified. To put it as simply as possible and know as to which feature is used to classify galaxies we can say that, galaxies are classified in terms of how they look, which classifies them into 3 types of galaxies. 
Now, what are the three types of galaxies, these three main types of galaxies are spirals, elliptical, and irregular shaped galaxies. Some may present them as 4 types of galaxies where the fourth type classifies as a barred spiral, but to put it into a broader perspective to what are the different types of galaxies, there are 3 types of galaxies with other subtypes including bar structure, the ring-like structure where there is a core from which other smaller galaxies pass.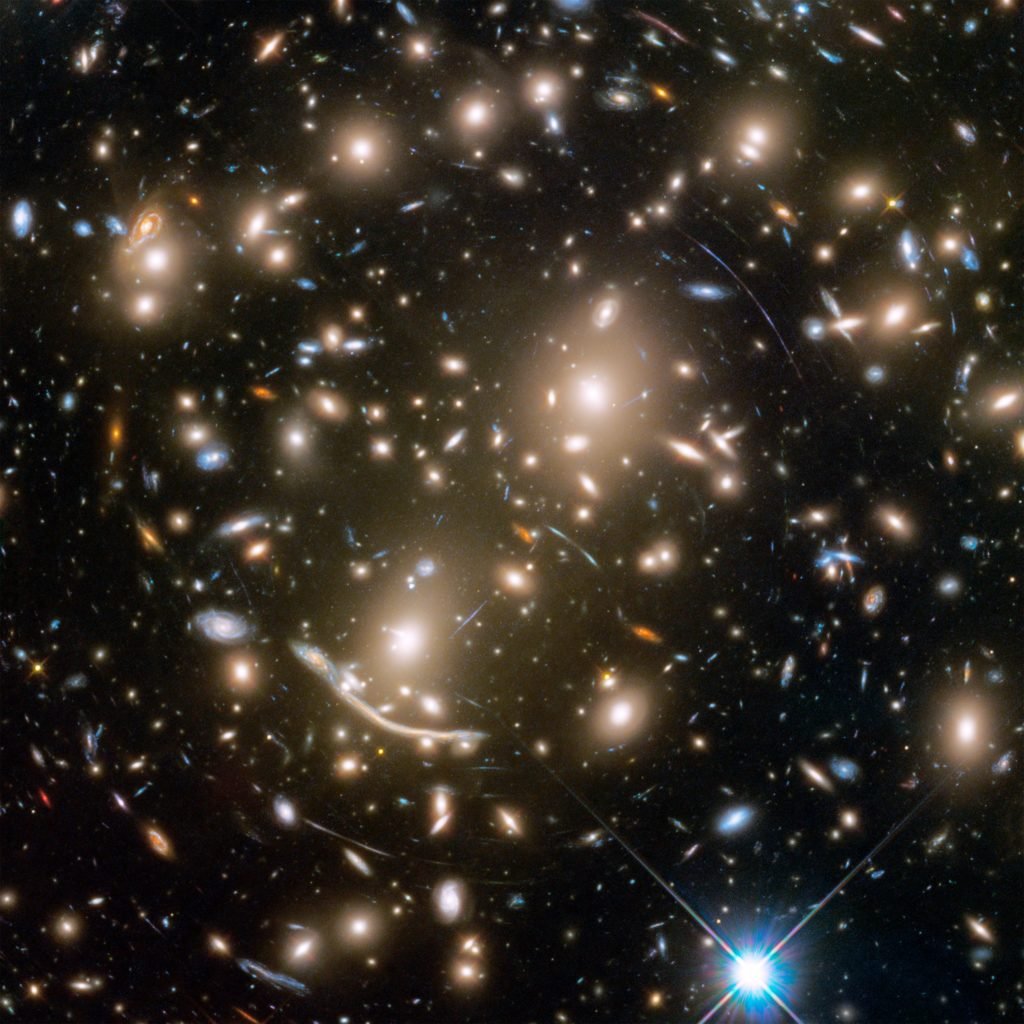 Others also include lenticular galaxies and ultra-diffuse galaxies, there are also starburst galaxies and as technological advancements occur, we will discover deeper and deeper into space where we would find more than what we know now.  
The Scientific Background
This classification into 3 types of galaxies was in part because of the system that the scientists used to group the types of the galaxy based merely on their shapes. Out of these sequences, the one that was most widely accepted was by Edwin Hubble where the galaxy classification was under 4 types of galaxies as mentioned above. 
However, out of these kinds of galaxies, spiral galaxy has been the most common to date where if we want to know what type of galaxy is the milky way, then that too is a spiral. However, the answer to what are the different types of galaxies were studied in detail by Vaucouleurs where they categorized it into mainly 3 types of galaxies, as mentioned above. 
As we now know about how and what are the three types of galaxies, we would look into all the different types of spiral galaxies, elliptical galaxies, and irregular galaxies. 
What are the different types of galaxies?
In this section, we will discuss in detail that what are the three types of galaxies and their extended subtypes and in total, how many types of galaxies are there according to the current explored space. To have a look at these galaxies, you can use this article to help you get a telescope and see everything with your very eyes!
Now, what are the three major types of galaxies. 
1 Spiral Galaxies
2 Elliptical Galaxies
3 Irregular Galaxies
1. Spiral Galaxies
The three main components that make up a spiral galaxy are the center called bulge, the disk that makes the arms and the last part is a halo. Now, what are galaxies that are spiral, they are basically a mesh of older stars where different components of the spiral hold some form of celestial bodies. 
They even include dust, gases, and even younger stars. If we were to look at our milky way, that too is a spiral where our Sun is in the arm of it. As far as the halo is concerned, it consists of stars that are old and is in a loose structural form. 
How are galaxies classified under spirals?
As there two-thirds of all the galaxy types are spirals there are further classifications under the spiral galaxies that are ordinary and barred. In ordinary spirals, the arms are connected directly to the bulge or nucleus whereas in barred, there we see a bar running through the bulge after which we see arms in a spiral from that. 
The different classes of galaxies have been classified by "a", "b", "c", "d" and so on where these numbers are given according to the tightness of the spiral where the Sa is the tightest spiral, almost like a circle. 
2. Elliptical Galaxies
As their name suggests, the shape of these galaxy types is in an elongated sphere shape where they are bulky in the center and then tapered towards the edges, giving it a disk shape. As for the light, it is greatest in the center and dims as we go further away from it. However light does not exist in clusters but it spread evenly throughout the galaxy, unlike spirals. 
This is in part due to the massive number of stars concentrated in the center, sometimes even more than 1 trillion stars. This is why most of the larger galaxies are elliptical galaxies. The star's age and light are not the same in different types of the galaxy, as for elliptical ones, the stars are relatively older and most of the time their temperature is lesser than that of our own Sun, giving them a reddish appearance.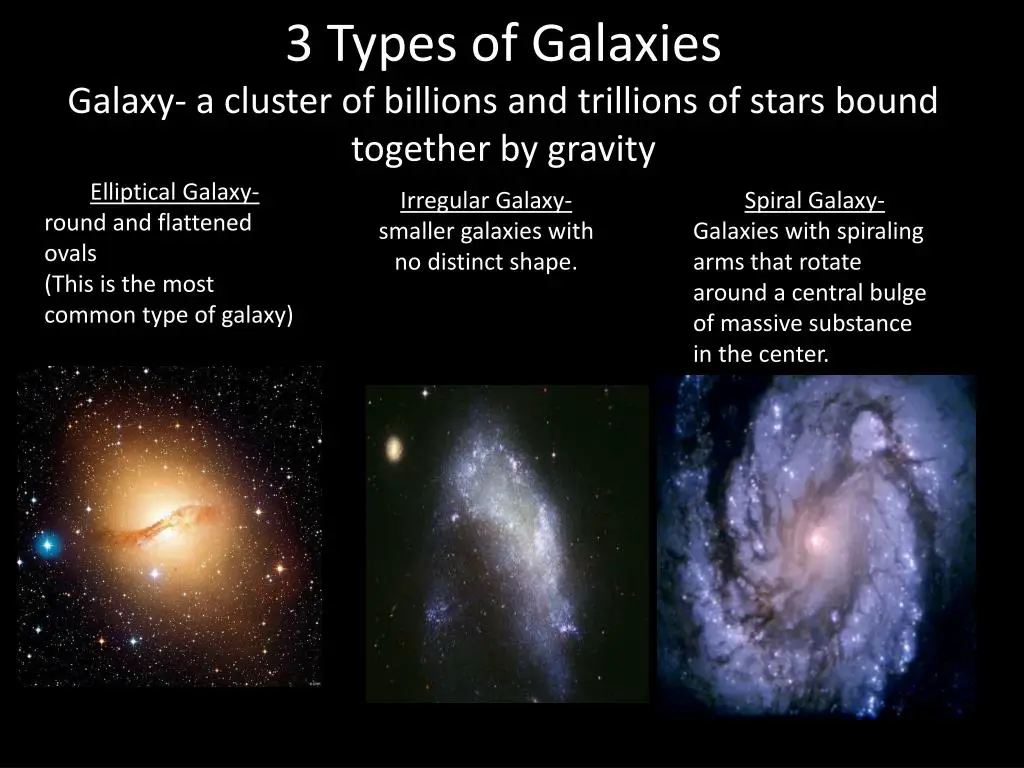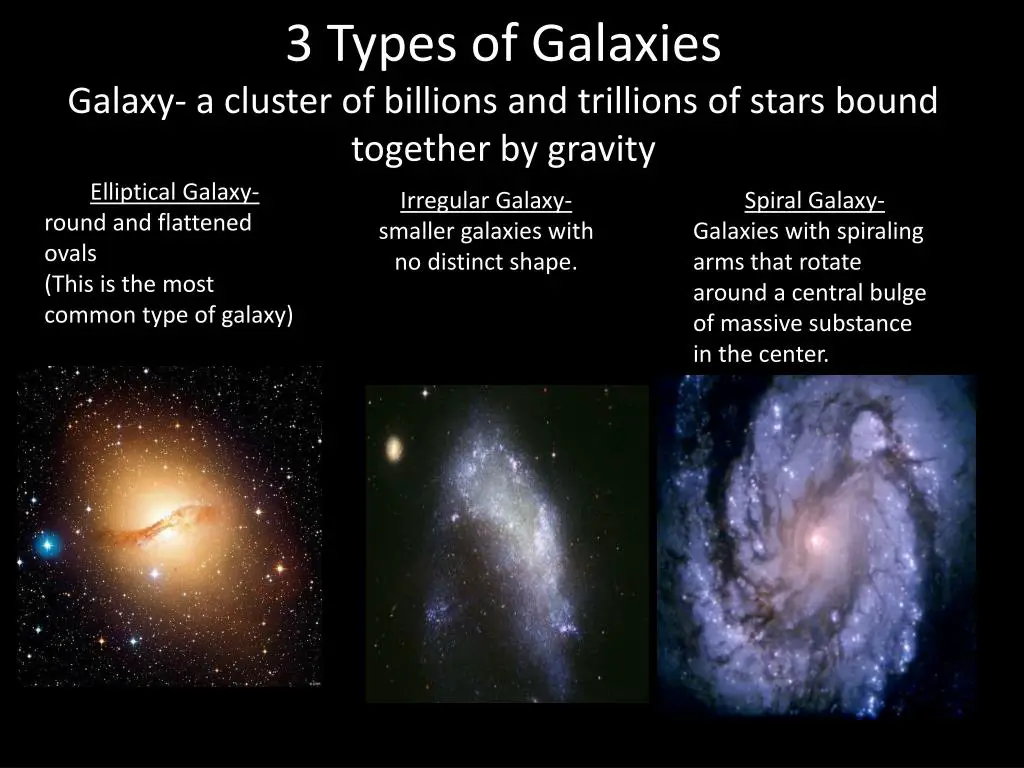 Further Galaxy Classification for Elliptical
Some say that despite the low mass of other stars, what contributes most to the mass of elliptical galaxies is a central black hole. However, elliptical galaxies are classified based on their elliptic nature where the higher the number with the letter "E" the more stretch out or elliptical it will be. 
For example, a rating on the Hubble classification of galaxies as E0 will almost be a circle and a rating of E7 (highest rating) will be more flattened. Having no definite axis of rotation these types of galaxies, a reason for them not having any arms. 
Some examples of a giant galaxy is the ESO 325-G004 followed by an example of a medium-sized galaxy, the Leo I and a much smaller elliptical galaxy are the M110 and the M32. All of these fall under the Andromeda as found out by Hubble. 
3. Irregular Galaxies
As for irregular galaxies, and to simply put it, as their name suggests are irregular with no definite shape of symmetry. The shape they take is more of a cloud than a recognizable one. Now since these galaxies do not show any form of a pattern or continuity, these classes of galaxies are the smallest of the galaxies where because of no definitive start or end are difficult to classify. 
Some of the astronomers are even of the view that they may serve as more of a building block for other types of galaxies to form. There is also a notion that these galaxies were once in some sort of a spiral or elliptical shape but due to strong or uneven external gravity, deformed to be as scattered as they are.
These galaxies are mainly a mesh of large amounts of gas, dust, black holes, formations of nebulous, stars, and various different elements that are similar or common with other galaxies. The explanation for this to happen is more likely galaxy cannibalism or two galaxies colliding to form an irregularly shaped galaxy. These types of galaxy are very few in number.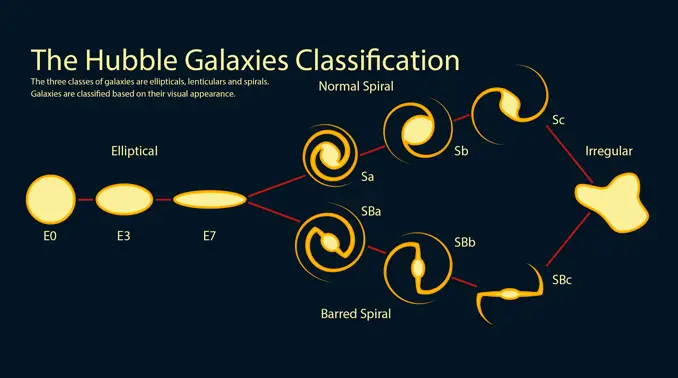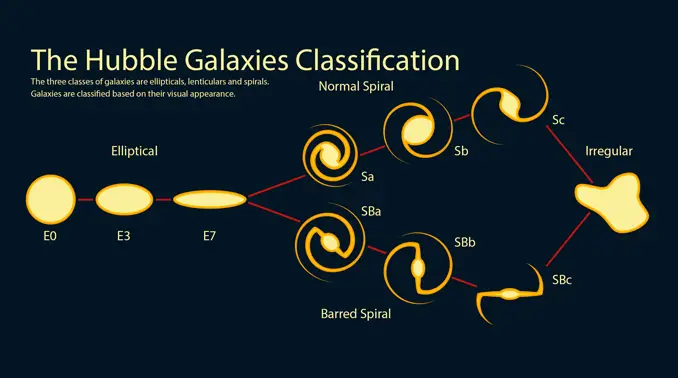 Types and Classification for Irregular Galaxies
How the classification for irregular occurs is based on two groups; Irr I, IrrII, and the DIrr III.
1 Irr I
These types of irregular galaxies are the most common of the irregular galaxies were fall under an extension to the spiral galaxies "Sc". They are blue in color and have no visible nucleus, but contains hydrogen gas, younger hotter stars, and population I star. 
2 Irr II
These galaxies are mostly not visible and that is in part of the huge amounts of gases in the galaxy that block most of the light that the stars emit. This is partly the reason why there are lesser irregular galaxies, because the dust blocks out the light, hence these have no visible structure.
3 DIrr III
These are mini irregular galaxies or dwarf. These are believed to be one of the oldest galaxies in the universe where they consist of high amounts of gas and are easily distorted by other surrounding galaxies. These types have relatively lesser metallicity.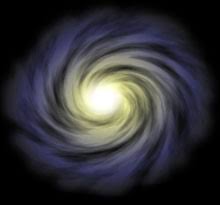 Conclusion
Having discussed majorly all types of galaxies mainly around what are the three types of galaxies, where we ourselves do not know how vast this universe is. This is only a glimpse of what we have discovered throughout these years merely by watching from afar, who knows how many have we not been able to see and how many shapes other than these 3 types of galaxies. To put it into a final statement around what are the different types of galaxies we, with our limited resources, can only say, who knows. 
If you liked this article, make sure to also check out the following ones for more information about the unknown: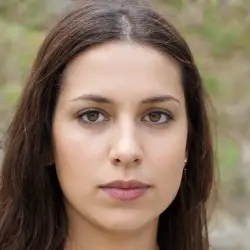 Latest posts by Maria Chan
(see all)