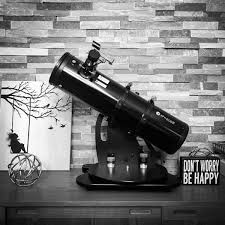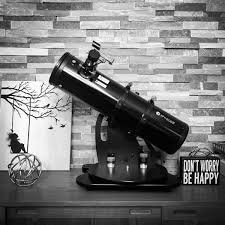 Whenever one makes a purchase there is a tradeoff between paying more money for greater quality or compromising on quality by paying a lower price.  
It is rare to find a product that finds the perfect balance between being affordable for its class and providing top-notch quality.
The zhumell telescope is one such product where they have struck a balance between providing an astronomy worthy telescope at a price range that is affordable for a lot of amateur and masterful astronomers.
Now to provide you with a complete zhumell z130 review we would have to go through a lot of what is provides from being a tabletop portable, fairly powerful telescopes to its areas where it performs best and where it does lack when compared with others in its category for reflector telescopes.
Not to confuse you but this is not a Logitech speakers z130 review, what we have in question here is the complete zhumell z130 review so that before you make a purchase, you know completely that what is it that you are going to buy.
We start off by seeing what is inside the box for this zhumell telescope and what do you get right off the bat when you make a purchase for this z130.
Now one might say that given the option that one has where they can easily upgrade their normal or a computerized telescope by attaching further enhancements, what is the need for looking at what comes with the box.
The need for and why that matter is because what you get initially decides which aspects of the telescope were a priority for zhumell and which of the aspects went over their radar.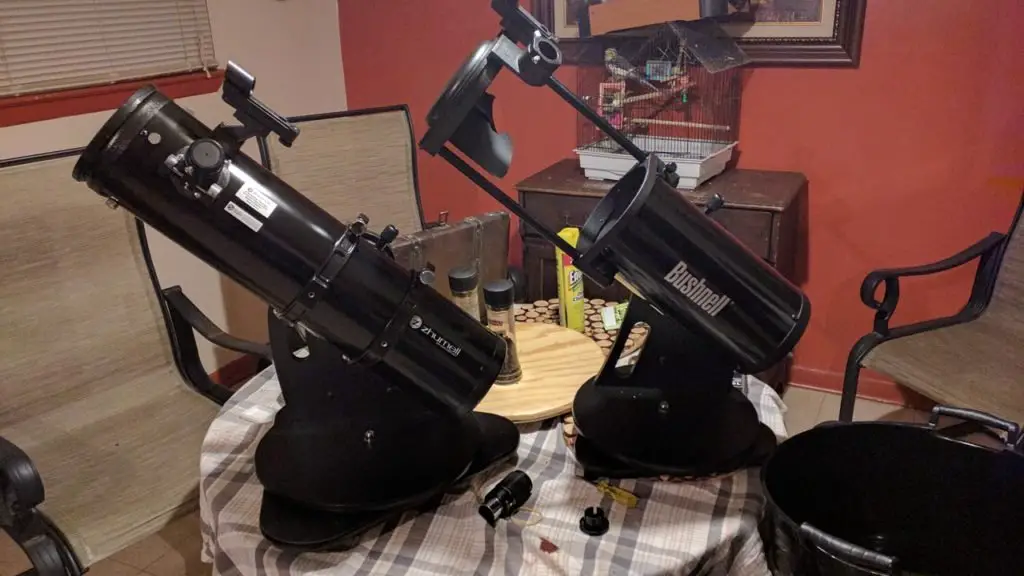 List of items included with the zhumell z130
• The zhumell z130 reflector telescope
• 5" aperture
• Dobsonian mount
• Eyepiece tray
• 10mm and 25mm: 1.25" eyepieces
• Red dot finder
• Lens cap
• Screwdriver
For these reflector telescopes be it the zhumell z100 or this, they are upgradable to an extent where a Barlow lens could improve what and how far a telescope shows, similarly attaching a 3x or a 5x Barlow lens could greatly enhance what we see.
However, the problem with that is that too high a multiplier tends not to work with slightly lesser powerful telescopes, now with an aperture of 5" it can only be multiplied to a certain number.
However, if the aperture are greater than 5" it does help with the overall crispness and the scope of what we can see.
Specifications: What Do They Mean
Aperture
Now to give a zhumell z130 review in terms of its specifications for a better understanding of what these features mean and how might they affect the performance of this telescope for beginners.
To start off with its 5" aperture. Now the balance of size and power that this 5" aperture provides in comparison to any bigger aperture is huge. Even if one switches from a 5" to a 6" aperture, the difference would be very unnoticeable but in terms of weight and space it takes would be huge.
Besides the 5" aperture for the zhumell telescope is powerful enough to be able to explore deep space and the celestial objects such as the rings of Saturn, Jupiter along with a few of it's moons, be able to spot Mercury, Venus and Mars, view stars and galaxies and most probably spot Neptune and Uranus in the solar system. Having a 5" aperture gives it the quality of being portable and travel friendly.
Optics
Now coming towards the quality of optics used in this zhumell, one has to say that they at par with any of its more expensive competitors. They really have used the money in improving and providing what really mattered the most.
It uses a 130mm Parabolic Mirror which is very refined and when in sync with its aperture, it results in a fairly sufficient amount of light transmission where this is as at par with many zhumell heavy-duty tripod models.
Focal tube
When giving a zhumell z130 review one has to talk about its sturdiness and the overall quality of the telescope. The feeling that you get when you use this telescope is relatively premium to what you get from a lot of other telescopes in this price range.
Accompanied by its compact design that is made to feel strong and well put together in your hands because of its strong, stable base and the quality mounting rings.
This ensures that it will remain safe and secure when there is a need for you to travel to clear skies so that the best night sky views possible.
The focal tube is 650mm in length, which is ideal for looking at space objects. What a combination of this aperture and focal length does it that when combined, which they are in this case, it enhances it field of scope.
Eyepieces (25mm and 10mm)
Accompanying the focal length and aperture with these eyepieces, it greatly increases the field of observation for the viewer. Another plus that comes forward for this zhumell z130 review is the mounts, which are industry standard.
For example, the eyepiece slot is a standard 1.25" which means that if you are willing to invest for a narrower eyepiece, say a 6mm, you can easily and directly fit it in the telescope rather than looking up for other attachments that would make that possible.
To be honest, you might want to buy some new eyepieces because they already present eyepieces are a compromise in terms of quality, which is expected at this price.
Dobsonian mount
Something that should be mentioned more than once is its compact and portable nature, where its durable and robust build will last you even through constant traveling and moving about.
Now one might think that when traveling how difficult will it be to set up. Well, unlike the Refractor Telescopes, this not so computerized telescope is actually easy to set up.
The Dobsonian mount is what enables this telescope to be relatively affordable and compact, where its range of movement is only for a vertical or horizontal axis.
If you liked this article, you'll like our related articles as well. Check out these: Celestron vs Meade: Which is Better? [Comparison], Celestron Vs Orion: Which is Better?
How to set up the telescope
All you need to do when setting it up is to mount it onto the Dobsonion mount and check for any missing parts. Assemble the parts, the finder scope, the tube, making sure the base is stable and rotates, and finally the eyepieces.
Then what comes next is collimating the telescope, which is essential for viewing clear, crisp images.
Next is to align the finder scope according to the eyepiece as what you see through the finder scope should also be visible with the eyepiece.
Finally, remove the dust caps from the bottom and the top which despite being fairly obvious is what many miss very often.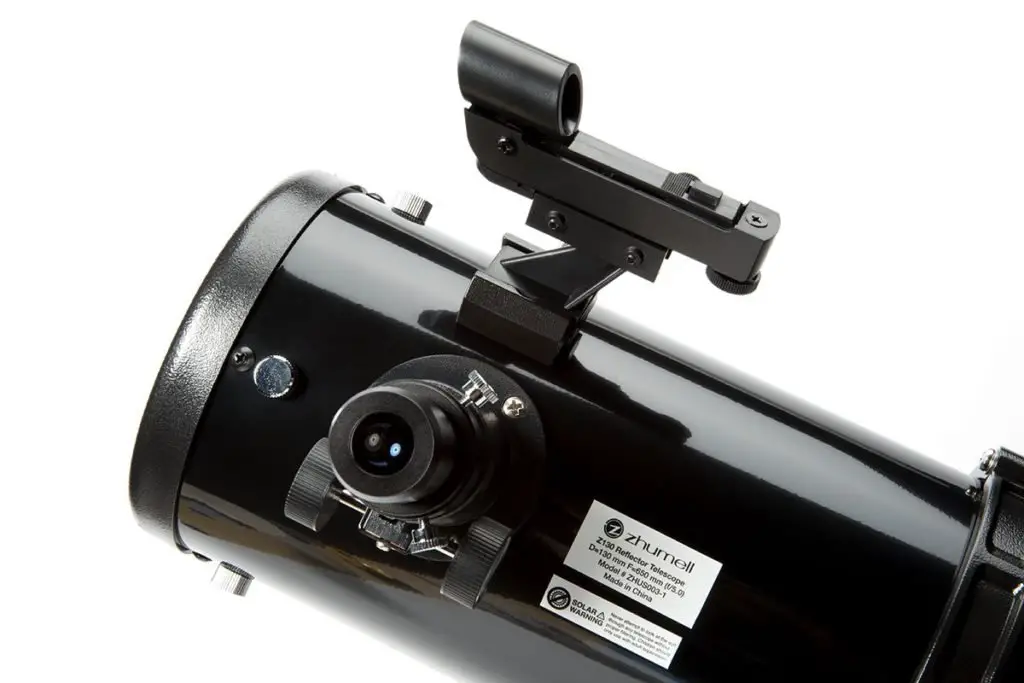 Further attachments that we recommend
If you really wish to achieve a huge magnification, we would advise you to buy a Barlow lens instead. What a Barlow lens does is that it magnifies the already present eyepiece by 2x or 3x.
Considering the 5" aperture, it is recommended that the magnification should not exceed any more than 200x given the power and the size of the telescope.
This value is determined by a rule where a maximum of 40x the aperture magnification and below gives the best results.
So if you were to use a 2x Barlow lens, it would magnify your telescope from a 26x and 65x magnification to a 52x and 130x magnification.
Similarly, if you change the eyepieces then the results would differ too where the Barlow lens would then magnify the current times of the eyepiece. So with this addition, you can really enhance your scope of observation that you would get from the z130.
The absolute strong areas for Zhumell z130
When giving a zhumell z8 review, one can draw a comparison with what both of these can do, but when sketching a complete zhumell z130 review we must only look into what this particular one can provide and what its limits are.
To list the strong areas for this zhumell telescope we can start off by:
Its strong and sturdy design does not lack in quality in any aspect.
It's portable nature where it can be carried and mounted without any hassle or technical expertise.
Areas of improvement
Considering the nature of the telescope where it targets beginners mostly, an area where some improvement could be done is the quality of the eyepiece. The rest of the components are fairly well built but the eyepiece really has room for improvement.
Another concern that you would have when buying it would be cleaning and maintenance. Now because of the way it has been built it is very open to dust and air which means that it needs to be cleaned very often and the dust caps need to be used religiously because it cleaning this delicate telescope does become a hassle.
Zhumell's Credibility and Competitors
A debate that often springs up for a zhumell vs orion battle. Now when comparing telescopes, as mentioned it is a tradeoff between one or two features for the price. Similarly, if we look at the SkyQuest XT4.5 by Orion, we might get a better focal length but it is less powerful than the zhumell, but it gives better magnification.
Then the XT6 is a much more powerful option providing more detail but it comes at a higher price.
Is It Worth The Money
To be honest and to put it as simply as possible, Yes! It is worth the money by a mile. It is like zhumell telescope with its z130 has struck the perfect balance between affordability and power making it an ideal telescope for beginners.
Conclusion
Coming to the end of this zhumell z130 review and looking at it from a lot of aspects we can say that this telescope should be right above your list of preferences when looking for a beginner's telescope.


What we have here is a powerful enough telescope that can make you see the stars and planets as far as Jupiter and Saturn along with being portable at the same time. So that whenever you travel you have the perfect tool for stargazing.
Along with its powerful tube and a well overall build quality, is really a long time and worthy investment.
Yes you might have to worry about its maintenance but it compared to what it offers for the price is really a very manageable offset, and only what you need to do is take a little extra care, but what you get for that extra care is a compact, powerful, portable and most importantly affordable zhumell telescope.
This is box title
If you liked this review, check out our other ones on similar products: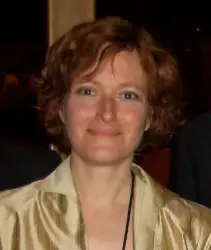 Latest posts by Mary Robinette Kowal
(see all)